From Cappuccino to Coding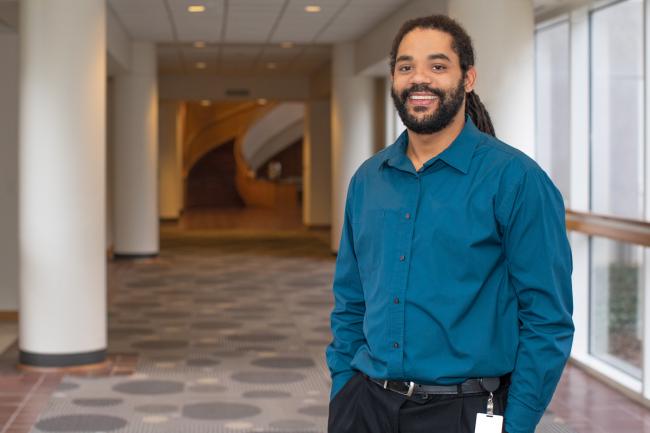 Tony Byrd
"I hope my story inspires others!"
— Tony Byrd
"A lot of people know my story," says Tony Byrd. "After graduating high school, I worked for seven years at the IBM coffee shop in Research Triangle Park." Some might say end of story, but for Tony, it was just the beginning. His winning personality brought customers – lots of customers – from entry-level employees to top executives. He received scores of compliments from them all, many of whom suggested he could do more with his skills and talents. They sparked his interest in technology.
He taught himself to code and took courses at Wake Tech while working as a barista. Soon, Tony was ready to make a bold move.
He was encouraged to apply for a software apprenticeship where he could continue to learn on the job. After the application process and testing, he was selected. Tony hung up his barista apron and began a new course.
"My friends say they know I'm in a better place but they miss my coffee!" Tony says. He now spends his time learning programming, studying code, and learning soft skills, like teamwork.
Recently, he was asked to tell his story at an IBM event in New York City. His compelling personal tale caught the ear of IBM CEO Ginni Rometty, who later mentioned it to a CNN reporter as an example of the diversity and success of IBM's apprenticeship program. That reporter wrote an article, which featured Tony. "It has been exciting: the event, the opportunity to tell my story, networking with top executives at IBM. I could never have imagined doing that before," Tony added.
IBM's apprenticeship program is a combination of education and on-the-job training. Tony realizes he has a lot to learn. "Fortunately I have lots of support," he says. "My mentor, David Green, keeps me focused. He reminds me of my main goal—to study, to learn and to stay focused on completing this program."
Looking ahead, Tony is well on his way to a new career. "After the apprenticeship, I hope to take more classes at Wake Tech. And, I hope my story inspires others. I want to give back. There are lots of people who have helped me along the way. I'd like to pay it forward."
And yes, Tony still makes a great cup of coffee.
More than 100 Wake Tech students are currently participating in work-based learning opportunities. To learn more, visit https://www.waketech.edu/programs-courses/credit/work-based-learning.