A Mission of Confidence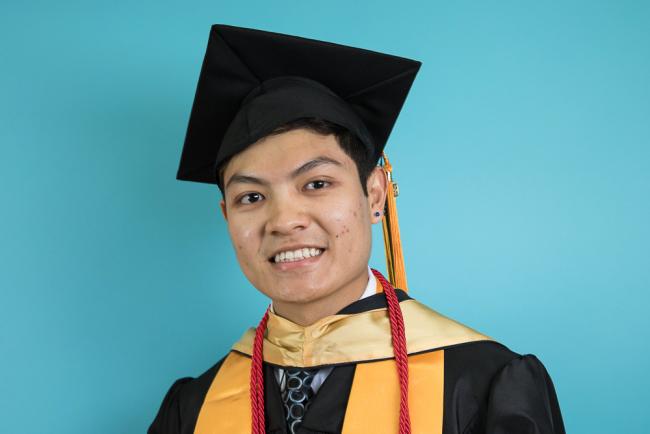 Tony Tran
Class of 2018
"Hopefully is not part of my vocabulary."
— Tony Tran
In the fall of 2015, Tony Tran enrolled at Wake Tech Community College unsure of himself and his academic and personal goals. He was not a disciplined student in high school and barely graduated on time. "It was time to get serious and I knew I was going to join the Marines or enroll in college," he said. "Wake Tech was the perfect choice for me." An opportunity to start over, he made a commitment to himself to give it all he had with a goal of identifying his passion which would lead to his academic success.
He became involved in clubs that aligned with his interests, including the Student Government Association (SGA), which Tony says is a great organization to get involved in the campus community and help students grow as leaders. In 2017, he was elected SGA Vice President and served a one-year term.
Tony's dream job is to be a NASA Astronaut. He's a NASA Community College Scholar candidate and took a five-week online course during the spring of 2018. Candidates take a test at the end of the course, which could qualify them for a NASA summer program. When it was suggested that his test results would hopefully lead to his participation in the program, Tony replied, "Hopefully is not part of my vocabulary. I will qualify and I will attend the summer program. I've learned to speak in those terms and when I do, things happen!"
Tony credits his professors at Wake Tech for his confidence and his success. It wasn't always easy but he knew he could rely on his professors to encourage him to persevere, which is what got him through his last semester of rigorous courses, including physics, calculus, chemistry and engineering statistics. 
Tony graduated from Wake Tech with two associate degrees and will transfer to NC State University in August to pursue an Aerospace Engineering degree. Tony said he will miss the people, faculty and staff at Wake Tech but feels very grateful for his community college experience. "Wake Tech has definitely prepared me to begin my coursework at NC State," he said. That will be the next step in his journey to hopefully – or definitely – become an astronaut!