Leading By Example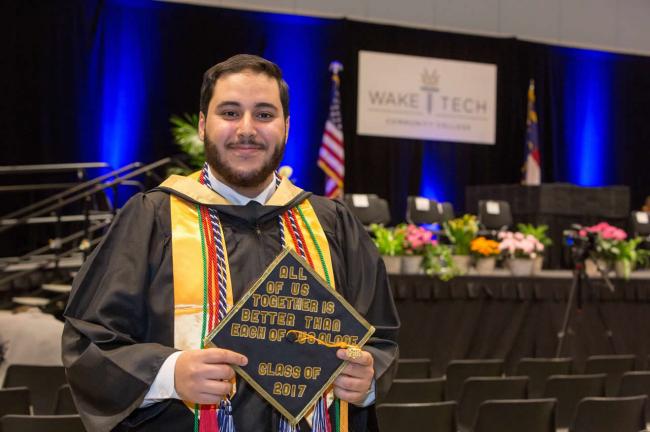 Yusuf Mahmoud
Class of 2017
"Wake Tech is where I found a home, family, and people who care about me."
— Yusuf Mahmoud
When 20-year-old Yusuf Mahmoud enrolled in Wake Tech in 2014, he felt sure he was making a wise choice – but he didn't realize that choice would change his life. Yusuf needed an affordable education. He was very much on his own, with his parents living outside the U.S., and working hard. He juggled as many as four part-time jobs at once to make ends meet!   
Yusuf dedicated himself to studying and making good grades, but he wanted more from his education. He became one of Wake Tech's student orientation leaders and joined the Student Government Association. In his second year he became a senator, and in his third year, he was elected SGA president. That position allowed him to work with the Wake Tech Board of Trustees, and he was inspired: "To work with people who take time out of their busy schedules to make sure students have the resources they need – that's what I want to do!" 
Yusuf served as Wake Tech's representative to the NC Community College System's Student Leadership Development Program, and represented students across the state as a committee chair for N4CSGA, the North Carolina Comprehensive Community College Student Government Association. He was inducted into Phi Theta Kappa Honor Society and the National Society of Leadership and Success. Becoming involved was – and is – extremely important to him. "The students, faculty, and staff at Wake Tech made a huge impact on me," Yusuf says. "With their help, I was able to achieve so many things, and I wanted to give back to this amazing college community!" 
With all that extra-curricular activity, Yusuf stayed focused on his studies and graduated with an overall grade point average of 3.8 in 2017. He earned an Associate in Arts degree along with certificates in accounting and business. His next stop is NC State, where he plans to study business management, marketing, and public policy. After that, Yusuf wants to pursue an MBA and a law degree, and says he will continue to spread the word about his community college experience. "Wake Tech is where I found a home, family, and people who care about me. I want others to be exposed to the same thing!" Wake Tech's tag line is "Lead the Way" – and Yusuf Mahmoud is doing just that!