Mr. Roman Goes to Washington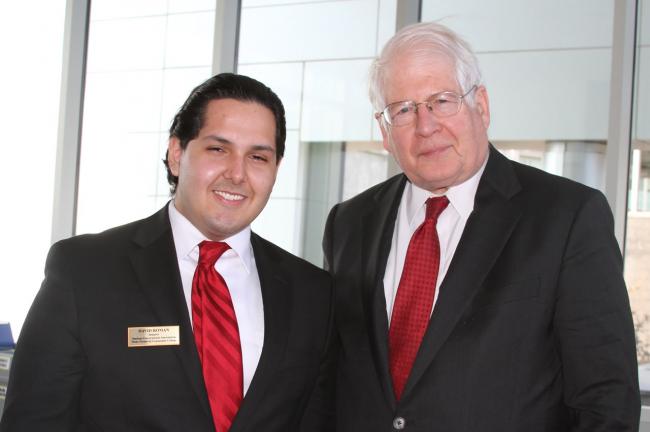 David Roman
Class of 2014
"I'm appreciative of all the support I have received from the Wake Tech family."
— David Roman
David Roman is a step closer to the political career he's dreamed about, thanks to hard work and determination – and a little help from friends at Wake Tech. David graduated in May 2014 and immediately caught a train to Washington, D.C., for a summer internship in the office of Representative David Price. That opportunity was not something he expected when he first entered Wake Tech. 
David came to Wake Tech because he didn't quite feel ready for university life.. He served as a senator in the Wake Tech Student Government Association, volunteered with the International Friends Club to help the homeless, and stayed active with Campus Crusade for Christ, all while maintaining a grade point average of 4.0. 
He also had the chance to meet Representative David Price when the congressman visited the Northern Wake Campus. When Rep. Price invited David to apply for an internship, he realized he would have a lot to do to get ready – find housing, put together a professional wardrobe, and figure out how to cover the costs of life in D.C. 
That's when the Wake Tech community rallied to make David's opportunity a reality. A number of college leaders – including President Stephen Scott – donated suits, ties, and funds to help with living expenses; others helped David find accommodations to make his stay in D.C. affordable. 
"I'm appreciative of all the support I have received from the Wake Tech family," says David. "I'm overjoyed and full of positive energy from the people here." 
Of everything the Wake Tech community provided, David says nothing means more to him than the Wake Tech lapel pins Dr. Scott placed on every suit jacket. "Wake Tech is always in my heart, and now I will be able to show everyone how much it means to me." 
The internship on Capitol Hill will no doubt prepare David well for the future he wants, just as the foundation he built at Wake Tech prepared him to continue to learn and grow.