Award-Winning Vision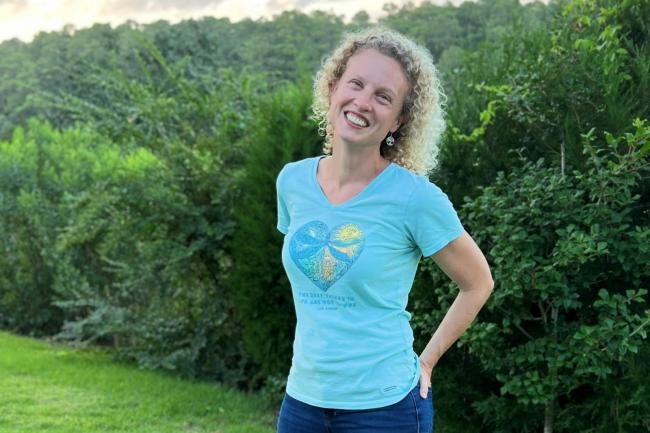 Allyson Tomasello
Class of 2022
Area of Study
Architectural Technology
Favorite Aspect of Wake Tech
The flexibility to work at my own pace
Career Goals
To create spaces for people
"It was very reaffirming that making this career change was a good choice."
— Allyson Tomasello
In her final semester as an Architectural Technology student at Wake Tech, Allyson Tomasello took on an ambitious challenge: Designing a community garden center – an urban farm – for a Detroit neighborhood revitalization project.
Allyson had only recently changed careers, from nursing – which she loved – to architecture. She'd started feeling a little burned out as a nurse and decided to go back to her first love, art. "I wanted to learn how to apply my skills in a practical way, to create spaces for people."
She admits to being a bit nervous about going back to school. She started with one evening class at Wake Tech. "I wasn't sure I was up to it," she says, "but I took that first class and was hooked! With small classes, we got individualized input from the instructor. We collaborated as a class and discussed each student's projects."
She added more classes each semester and eventually decided to leave her nursing job to attend Wake Tech full time.
The CCCAP Student Design Competition, sponsored by the National Coalition of Community College Architecture Programs, is open to architecture students across the country, at community colleges or in the first two years of a four- or five-year program.
Her final project was the competition, which asked for designs for a garden that would anchor the community, supporting sustainability and a healthy urban lifestyle by bringing food, health and jobs together in one place. Allyson spent many hours on her design and describes it as "very extensive," including multiple structures serving a variety of functions.
To her surprise, she earned third place in the competition! The judges described her design as "smart" and said it "activates the interior with as much energy as it does the exterior." She was also praised for her design's "successful integration of varying ways of representing architectural futures."
Allyson was thrilled to be named among the best and says "it was very reaffirming that making this career change was a good choice." Upon graduating, she was immediately hired by a local architecture firm as a project designer!