Leveling Up and Giving Back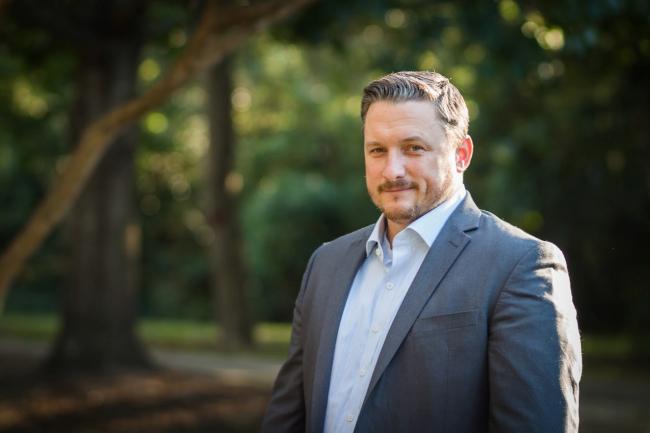 Casey Tart
Class of 2006
Area of Study
Network Management
Favorite Aspect of Wake Tech
Caring instructors
Career Goals
Helping others climb the economic ladder
"It feels really good helping people who are like I was, doing whatever they can to create a career and change their lives."
— Casey Tart
Casey Tart is an impressive Wake Tech graduate giving back to the college that gave him his start on a successful career.
Casey is a director of Global Head of Digital Support Services at Credit Suisse, the global financial firm, where he supervises nearly 200 staff members and oversees IT support for more than 66,000 employees and contractors around the world.
Casey grew up on Oak Island and attended West Point for a year until he realized the military was not for him. He moved to Raleigh and enrolled at North Carolina State University to earn a computer engineering degree. But life had other plans: He met his wife, started a family and went to work as an IT support technician to pay the bills.
"It was hard," Casey says. "I was 22 years old with a wife and baby at home. While my friends were out partying, I was worried about my next paycheck."
Casey realized he needed to upgrade his technology skills. Friends and mentors suggested Wake Tech as the best place to learn the skills his job required.
"At N.C. State, I studied things like advanced mathematics and computer science and learned a lot about the theory of computer programming. But what I learned at Wake Tech was literally how to log into servers. I was learning the same things I was doing at work."
Casey went to work at Time Warner Cable, and after six years of steady promotions, became call center manager. He remembers one call in particular that he took early on.
"My job was answering calls from people having trouble with their internet or voice-over-IP phone service. One of my Wake Tech instructors called for help with his network set up, and I used an example from his class to help him understand what was wrong! At the next class, I told him, 'Now you know I understand that concept!'"
Casey has fond memories of the instruction he received at Wake Tech: "The instructors really cared," he says.
With a Network Technology degree, IT skills and management experience, Casey was recruited by Credit Suisse in 2010. He started out managing a team of call center agents for the company's internal IT support desk, and once again, climbed the ladder through several promotions to reach the position he has today.
"While I enjoy working with technology, I'm more passionate about my path into leadership, helping people develop and having an impact on the organization."
Casey says he has hired hundreds of people for IT positions over the years, and while he knows an academic degree is important, he challenges the notion that a four-year degree is always necessary. What he really looks for, he says, are the skills needed to do the job.
"In technology, the practical skills are more relevant from a business standpoint. When we hire, we look for people who can come in and hit the ground running. Otherwise, we spend six months training them on something they haven't seen before."
While Credit Suisse seeks to fill leadership positions from within, the company recruits from colleges and universities to fill entry-level roles. To that end, Casey has a taken on a senior role with the Credit Suisse Raleigh University Partnership strategy, focusing on four key institutions: UNC-Chapel Hill, N.C. State, Meredith College and Wake Tech. The partnership's goals are to build a better recruitment pipeline and increase diversity and inclusion efforts in their hiring practices.
Casey is the point person for Wake Tech. His first step was meeting with college deans to determine which programs align with the company's needs and with gaps in its workforce. The group identified eight IT and two business degree programs at Wake Tech with clear paths to Credit Suisse positions. A subsequent hiring event resulted in five Wake Tech graduates starting promising new careers at Credit Suisse.
Casey's commitment to Wake Tech doesn't stop there. He serves on the college's IT Provost's Council to help guide and shape Wake Tech IT programs and speaks to Wake Tech classes, providing mentorship and career advice for students. He has even worked to establish a Wake Tech alumni group at Credit Suisse to encourage co-workers to engage with the college.
"It feels really good helping people who are like I was, doing whatever they can to create a career and change their lives," he says. "There's just something about Wake Tech students – there's a sense of modesty and humility that drives them. It's real, it's honest, it's authentic."
Casey says he gets emotional thinking back to how hard he worked to climb the economic ladder. Now he's grateful to have the opportunity to help others do the same.
To learn more about IT programs at Wake Tech, visit it.waketech.edu.