Removing Barriers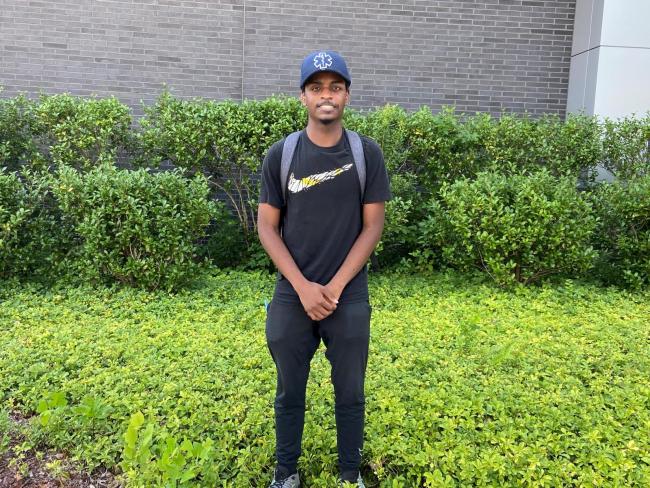 Quintin Thorb
Area of Study
Emergency Medical Science
Favorite Aspect of Wake Tech
Hands-on classes
Career Goals
Paramedic or firefighter
"I could see this new agreement opening up a lot of doors for people."
— Quintin Thorb
Like many children growing up in public housing, Quintin Thorb was uninterested, unengaged and unmotivated about school or his future. His trajectory changed in middle school when he discovered the Communities In Schools Learning Center in Raleigh. Communities in Schools is a non-profit that provides academic support and removes barriers for children who need assistance. At the CIS Learning Center, Quintin received the one-on-one attention he needed to make the difference:
"They helped me understand the work better, I put in more effort and I started getting better grades." Quintin says. "I made the honor roll every year from then on."
As a student at Athens Drive High School, CIS helped Quintin nurture his dream of becoming a first responder. And when he graduated, it was perfect timing to take advantage of a new partnership between CIS and Wake Tech, where he's now enrolled in the college's EMS/Paramedic apprenticeship program.
"We've basically been shoulder to shoulder with him throughout the admissions process and now the wrap-around services," says Wake Tech Associate Vice President John Saparilas. "We've helped him in a lot of ways. We helped him complete his FAFSA (Free Application for Federal Student Aid), connected him with Student Advocacy and Support, we got him a computer for learning and a bus pass to get to class, and then connected him with an apprenticeship through WakeWorks, which helped provide books and tools."
Wake Tech and CIS signed a Memorandum of Understanding to collaborate on educational opportunities for students just like Quintin. The partnership is a key milestone – or Rally Mark -- in the college's Reach and Rally strategic plan, with the goal of providing Equitable Access for students from underrepresented groups to help them enter Wake Tech with the support services they need to be successful.
"For as long as I can recall," says LaToya Montague, CIS Executive Director, "he's always wanted to do something aligned with being fire chief, an EMT or paramedic, so we were able to do connect him with Wake Tech and say, listen, this is how your dream starts."
"We have been so excited about the Wake Tech partnership for awhile now," says Lisa Berwyn, CIS Director of Advancement. "We know if you have a degree from Wake Tech, there's a really good chance that you're going to be employed. We want these students to succeed but was also want them to contribute to the society which has given them so much."
Thanks to the new CIS/Wake Tech partnership, Quintin has taken the first step toward achieving his dream of becoming a paramedic. But in a sense, he's already on the front lines, inspiring others who may need similar support to start an educational journey that can change their life.
"A lot of people from my neighborhood, when they hear me talk about Wake Tech or see my posts on Facebook and Instagram, they start to become interested in wanting to learn more about it," he says. "So I could see this new agreement opening up a lot of doors for people."