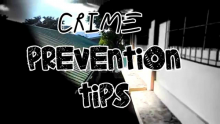 Safety Awareness Workshop
Date
Thu., October 10th, 2019
Location
Public Safety Education Campus
Public Safety Education Campus Library
321 Chapanoke Rd
Raleigh, NC 27603
Ste. Library
Description
Part one: Safety Awareness
Thursday, Oct 10th @ 6:00 p.m.
Join us for an introduction to general
safety awareness, where we will provide
tips & tricks, information on popular
personal safety devices, and helpful
advice from two trained weapons
experts.

All sessions are totally free and open tothe public.
Seats are limited so please register early to secure your spot! 
Host/Sponsor(s)
Library Services