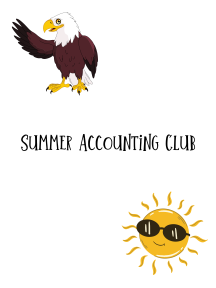 SNWC Wake Tech Accounting Club Meeting - Virtual/In Person In NK 345 - All Students Invited!
Date
Tuesday, June 14, 2022
Time
11:30 a.m. - 12:30 p.m.
Description
It's HOT OUT THERE!🥵  OR ITS RAINING?  Come join us on campus in NK 345 (S. Northern Wake Tech Campus, Building K, Room 345) or grab a sandwich and watch the presentation virtually.
Learn about the Accounting Club and listen to guest speakers talk about topics important for ALL business students!  Even our visiting students will benefit from these presentations.  
Instructor Chuck Powell from the Accounting Department will talk introduce students to the Accounting Club and the plans for the Summer and beyond!
Investing and Business Resources For Wake Tech Students.  Erik Suggs, Instructional Librarian, will walk-through the amazing free resources for Wake Tech students that are offered through the library.  This includes Morningstar, O'Reilly and other Accounting, Tax and Business resources.
Laveda Joseph, Career Services Specialist at Wake Tech, will give an overview of Wake Tech Career Resources
***IMPORTANT*** If you are going to be on campus please RSVP wo we can estimate food and beverage needs