Outdoor Geology Laboratory
OGL Lab Creation and Dedication
Initial planning for the Outdoor Geology Laboratory began in 2011. Wake Tech geologists traveled with Martin Marietta geologists to 11 different quarries across the state and selected 13 unique boulders. A 14th boulder was later added to the Northern Wake Campus OGL when the foundation for building NH was being dug and the workers struck rock.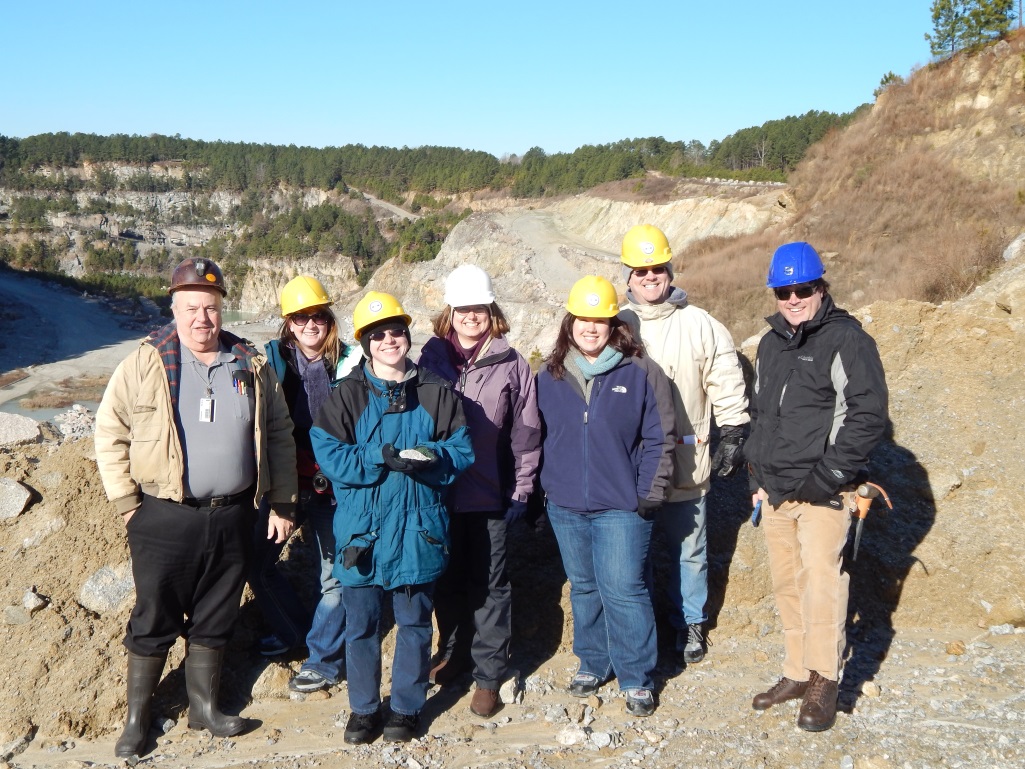 Geologists Dr. Ken Howard, Dr. Sara Rutzky, Gretchen Miller, Stephanie Rollins, Joseph Davis, and Tyler Clark pose at the Garner quarry while on a trip to select boulders in January 2014.
---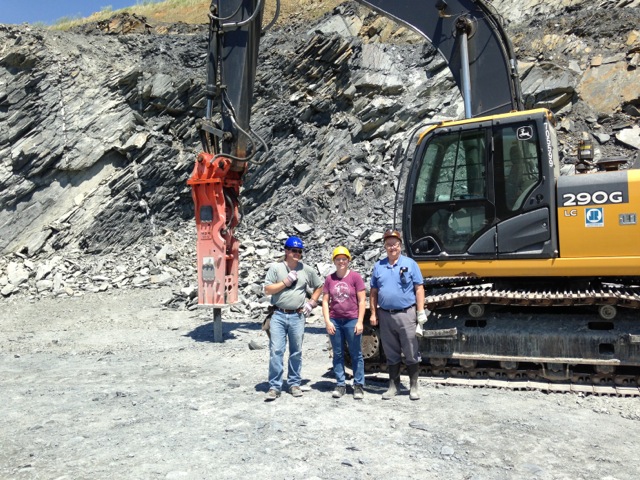 Geologists Tyler Clark, Dr. Sara Rutzky, and Dr. Ken Howard pose in front of a hydraulic hammer during a visit to a quarry to select boulders for the Outdoor Geology Lab in May 2014.
---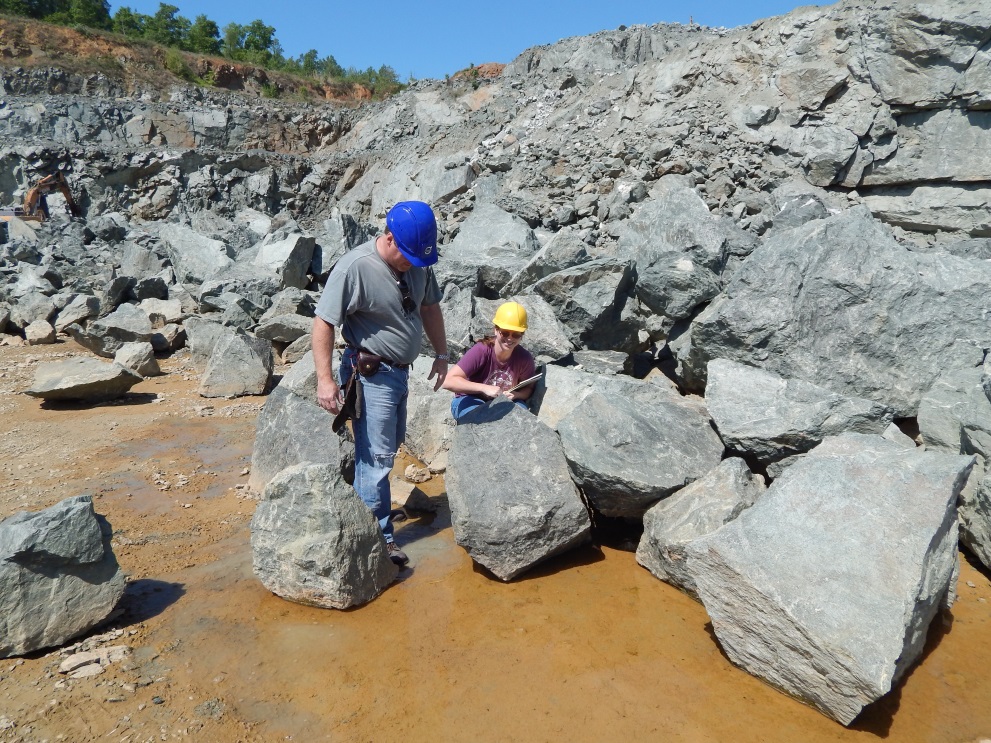 Geologists Tyler Clark and Dr. Sara Rutzky examine a group of boulders to see if appropriate for the OGL.
---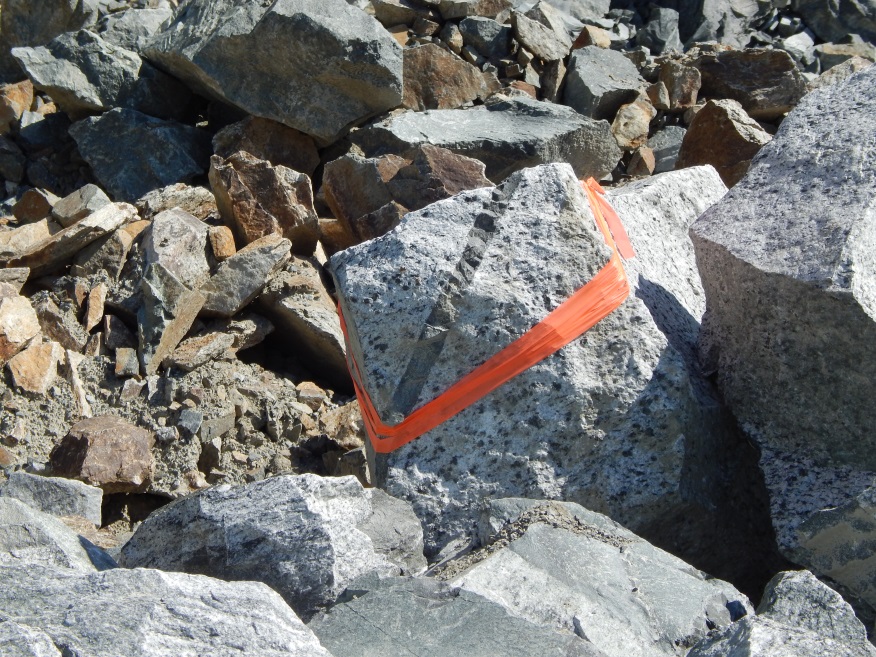 A boulder selected for the OGL and marked with orange tape.
---
Rocks were transported to the Northern Wake and Southern Wake campuses via flatbed truck.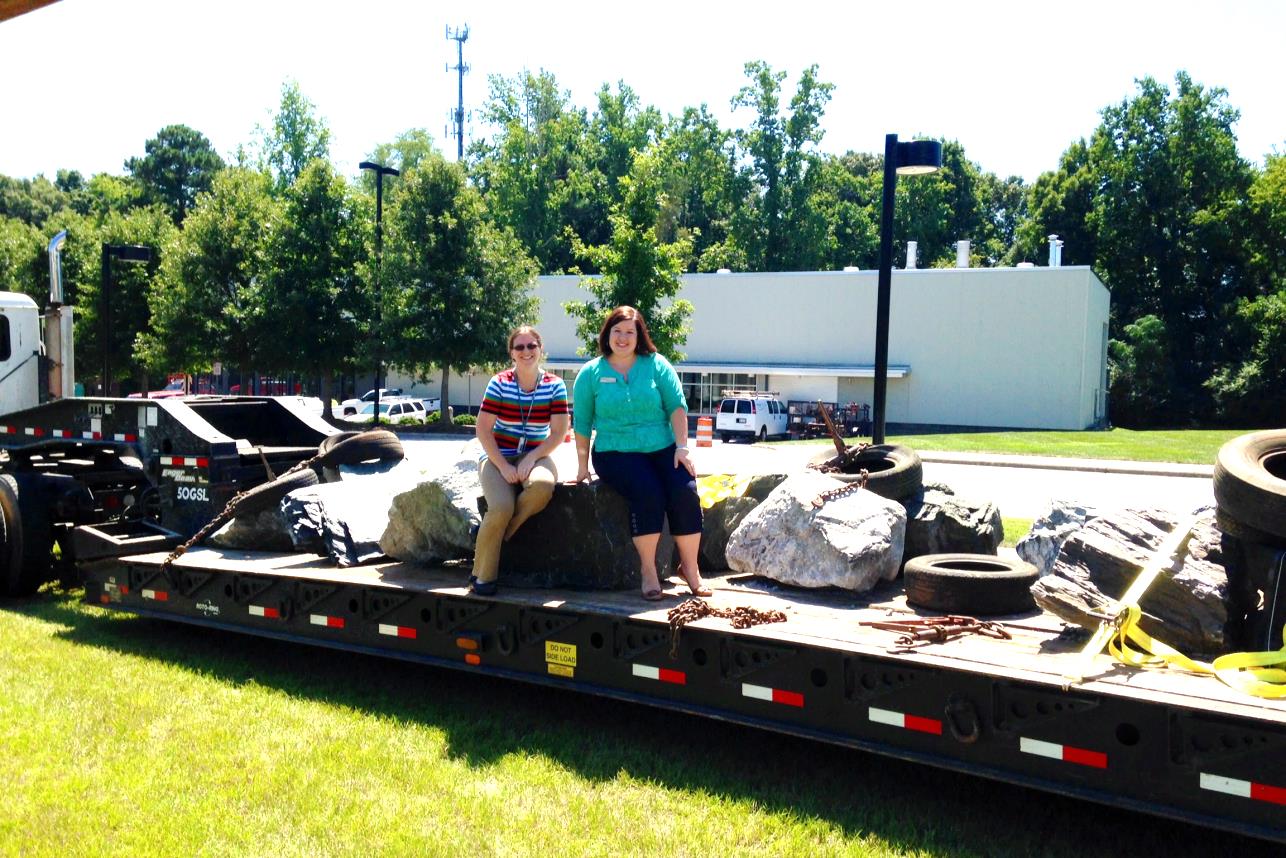 Geologists Dr. Sara Rutzky and Stephanie Rollins pose with the boulders as they are delivered to Wake Tech's Northern Wake Campus on August 27,  2014.
---
At Southern Wake Campus, the winding walkway had to be built before the boulders could be installed; at Northern Wake Campus, the walkway for the OGL was already in place.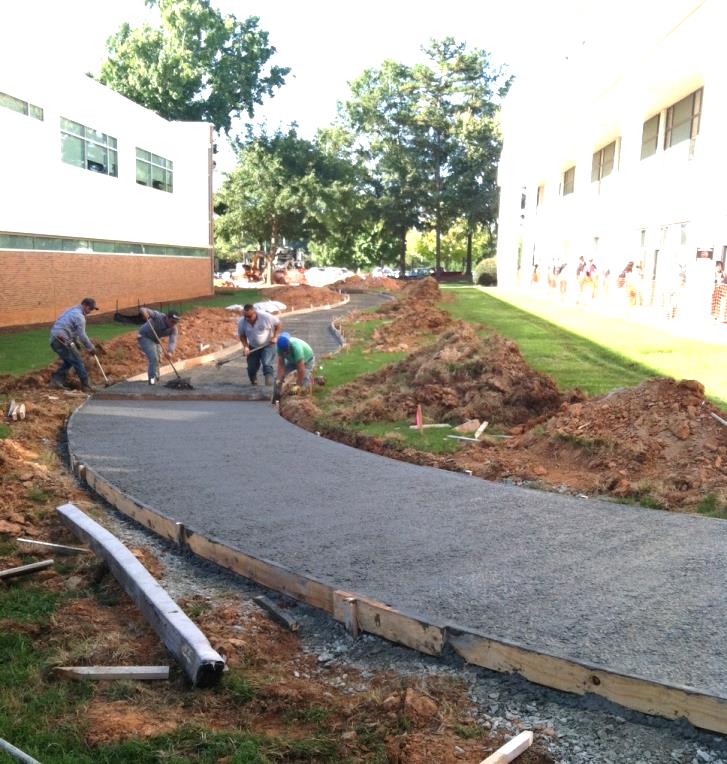 Creating the walkway at Southern Wake  Campus between LE and ETB.
---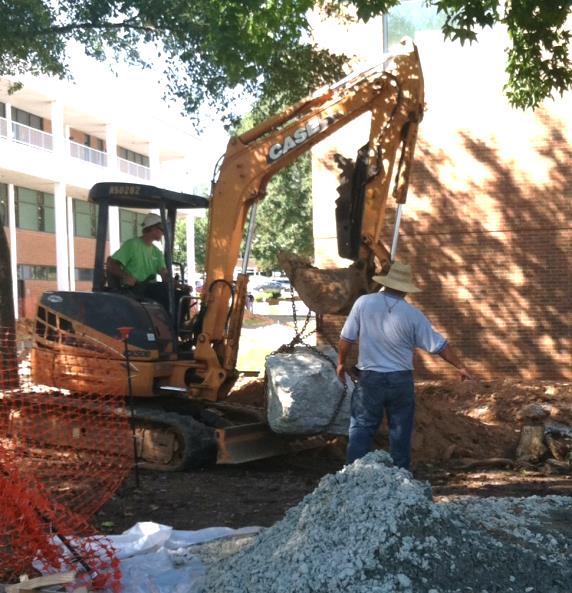 At Southern Wake Campus, rocks are unloaded and placed in the OGL using an excavator.
---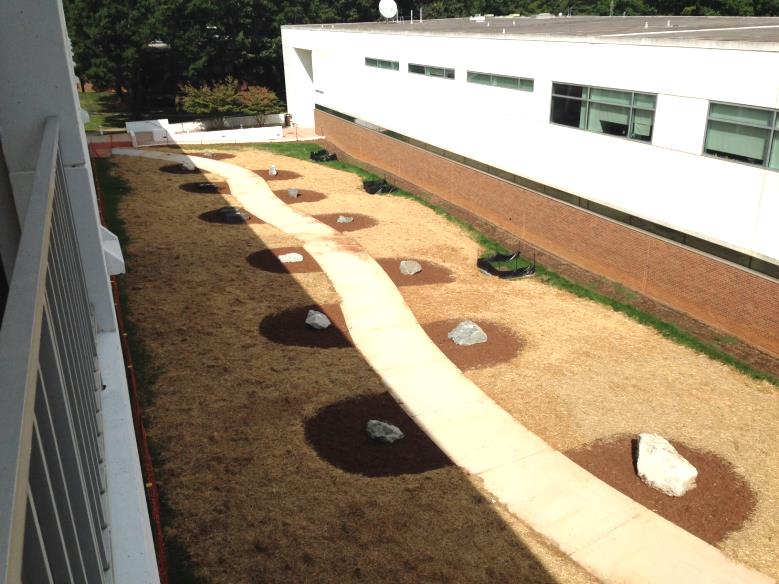 Southern Wake Campus OGL installed! 
---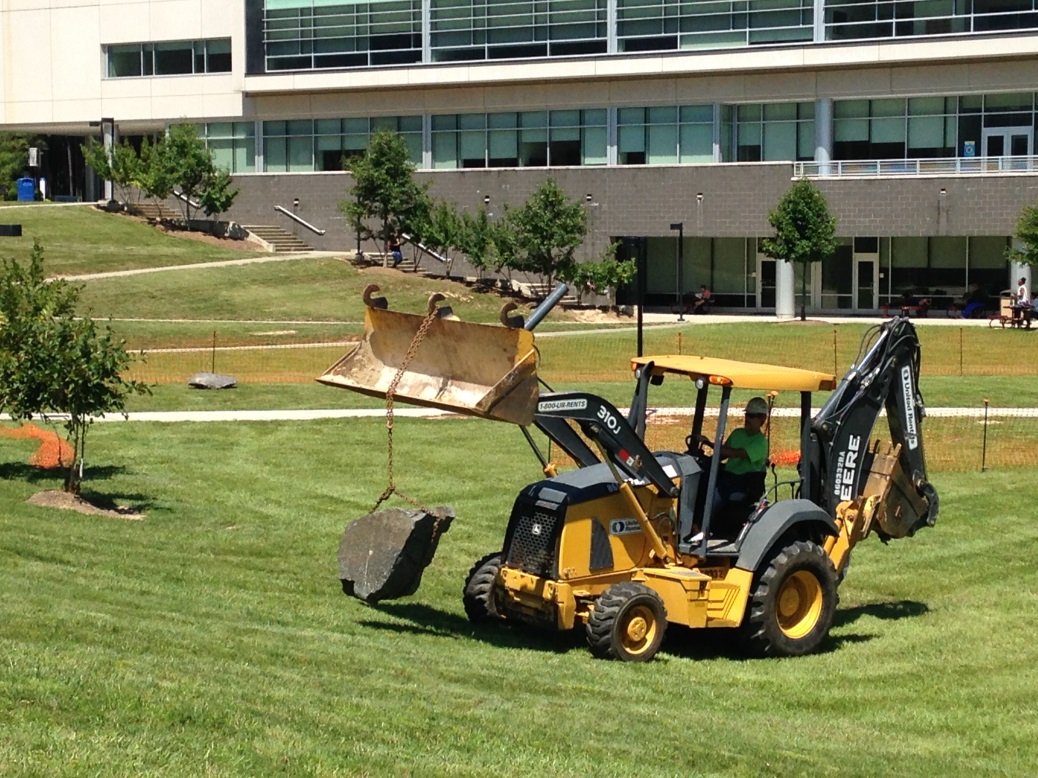 At Northern Wake Campus, a front loader unloaded and placed rocks in the OGL
---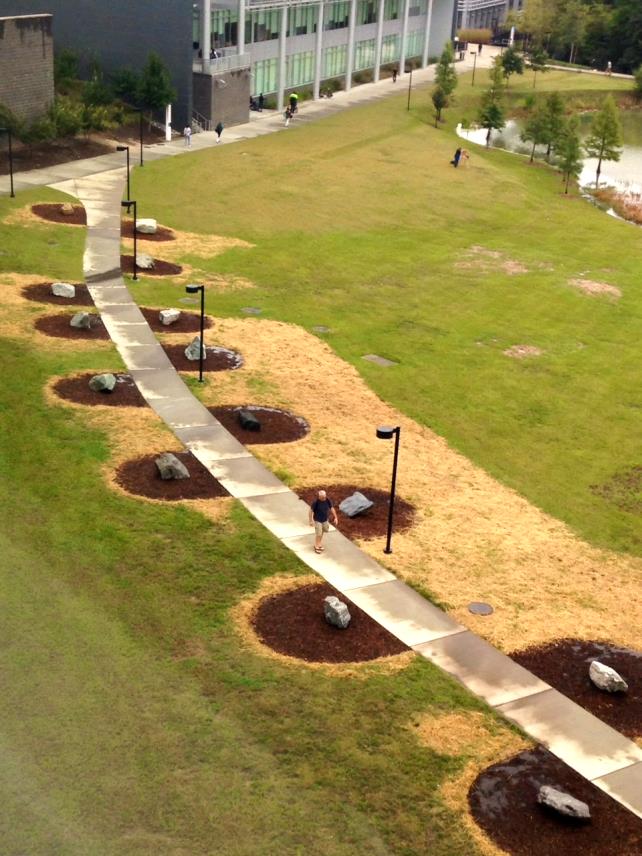 North Campus OGL installed!  
---
On April 14, 2015, the Outdoor Geology Laboratories were dedicated at a ceremony at the Northern Wake Campus. In attendance were Dr. Stephen Scott, President of Wake Tech; Ward Nye, president and CEO of Martin Marietta Materials; and Wake Tech geology faculty and students. 
PRESS COVERAGE
---
Geologists Dr. Sara Rutzky, Stephanie Rollins, and Gretchen Miller pose with one of the boulders at Northern Wake Campus after the April 14, 2015 dedication ceremony.