Outdoor Geology Laboratory
Wake Tech's Outdoor Geology Laboratory (OGL) is a unique learning environment –a collection of rock boulders representing North Carolina's varied geological makeup. This hands-on laboratory, named "Mountains to the Sea Outdoor Geology Lab Pathway," includes 13 boulders collected by Wake Tech geology faculty from 11 different quarry sites across the state. A 14th boulder was later added to the Northern Wake Campus OGL when the foundation for building NH was being dug and the workers struck rock.  An Outdoor Geology Laboratory was installed at both northern wake and main campuses, providing students with a hands-on learning experience to reinforce classroom education in geology. The rock boulders were a generous gift from Martin Marietta Materials.
| | |
| --- | --- |
| Scott Northern Wake Campus OGL | Southern Wake Campus OGL |
Virtual Tour of the OGL
The rock boulders, including metamorphic, igneous and sedimentary rocks, help students to better understand North Carolina's unique and complex geologic history.
Learn more about the rocks and North Carolina Geology by taking a Virtual Tour of our Outdoor Geology Laboratory!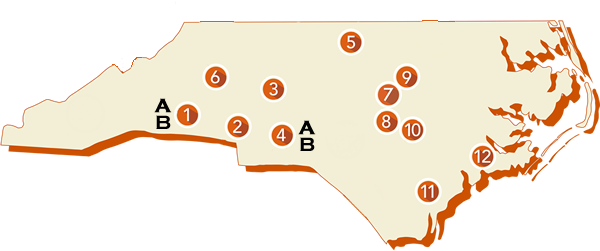 The above interactive North Carolina map shows the location of the different quarry sites of the chosen rock boulders. Click the numbers on the map above (or on the links below) to learn more information, including photos and descriptions of each rock boulder.
OGL Creation and Dedication
Initial planning for the Outdoor Geology Laboratory began in 2011. Wake Tech geologists traveled with Martin Marietta geologists to 11 different quarries across the state and selected 13 unique boulders. Discover facts about the OGL creation and the generous gift from Martin Marietta Materials.