Graphic Design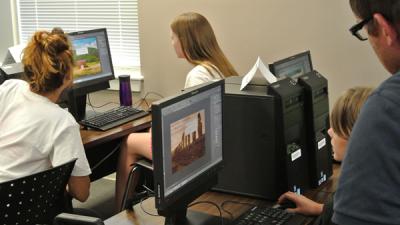 Have you always wanted to learn Graphic Design? This camp will teach you how create visual messages that inspire. You'll learn how to apply principles of design to school presentations, and how to apply multi-media like Photoshop to develop a concept for your personal identity system and more! Another vital element of your success will be to develop a unique personal brand that will help clearly express who you are, a conceptual identity can serve you in your chosen profession that expresses what you can offer to the world.
Availability
Campus / Location
Date(s)
Time
Register
How to Register
Campers must provide their own lunch. 
Lunch IS NOT Provided.
Camp Cancellation Policy
Wake Tech reserves the right to cancel camp sessions because of insufficient enrollment or instructor availability, in which case a full refund will be given.
Refund Policy
Registrants who cancel 10 calendar days or less before the camp starts will be refunded 75% of the registration fee. "No-shows" are responsible for the registration fee. No refunds will be given after the course begins. To change your registration information or drop out of a camp, submit a written request to the Workforce Continuing Education Registration & Records Office before the camp start date:
Wake Technical Community College
Workforce Continuing Education Registration & Records
9101 Fayetteville Road
Raleigh, North Carolina 27603
More Information
For questions or more information about this camp, please contact Courtney Boney 
at 919-334-1612 or [email protected]