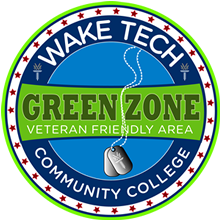 Green Zone
A green zone is a location recognized by veterans as a safe place. The goal of the Green Zone program is to provide a safe space for student veterans, whether on-campus or online. 
Wake Tech offers a training program for staff and faculty to become green zone advocates.
Graduates of the Green Zone training program will proudly display the Green Zone logo in their office or in their syllabus.
Green zone advocates are staff and faculty who:
Are aware of the issues and concerns faced by student veterans and their families
Are available to listen and assist student veterans and their families
Are a sympathetic ear
Can refer to appropriate services as needed
Green Zone advocates are NOT expected to be experts or be able to solve all problems. Instead, they are a resource for student veterans.