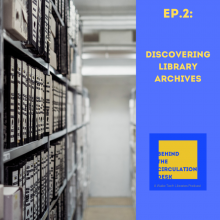 Episode 2: Discovering Library Archives
In this episode, we'll talk to librarians Jennifer Mincey and Todd Nuckolls, who are in charge of the college's archives, which are housed at the Scott Northern Wake Campus Library. Then, we'll delve into a discussion about one of our newest young adult books, "A Large Expanse of Sea" by Tahereh Mafi, with Library Technical Assistant and avid young adult literature reader Jasmine Smith.
The questions that were used during the discussion about "A Large Expanse of Sea" are in the reading guide available online.
Published on:
Mar. 23, 2020
Episode Guests
Jennifer Mincey
Evening Services Librarian, Scott Northern Wake Campus
Todd Nuckolls
Public Services Librarian, Scott Northern Wake Campus
Jasmine Smith
Library Technical Assistant