Plus 50 Lifelong Learning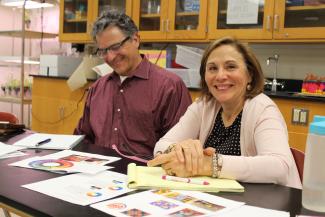 Wake Tech offers courses designed especially for adults 50 and over that can help you discover a new career, improve your job search skills, plan for retirement, or explore personal interests. 
At our Plus 50 events, you can sample courses and attend presentations from community experts on a wide variety of topics - small business counseling, long-term healthcare, retirement, beer brewing, flying commercial drones, and much more! Stay tuned for announcements about upcoming Plus 50 events. 
---
Check out these programs and resources:
Become an Entrepreneur
You may have dreamed of starting a business or turning hobbies or volunteer work into a money-making operation. Wake Tech's Small Business Center and Entrepreneurship Initiatives programs have resources to help get you started. Talk with an SBC advisor (live and in person!) in a free, confidential session, any time questions arise.
Retired to Re-hired!
Going back into the workforce can be daunting: You may wonder about your tech skills or generation gaps in the workplace - or you may be seeing a challenge you haven't identified yet. Wake Tech's Workforce Continuing Education division can help -- and the Career Transitions Forum is a great place to start. This unique, weekly series of lectures and networking activities brings professionals together to share ideas and experience in a supportive environment. 
---
Course Details & Registration Information
Career Transitions Forum: Lecture Series for Business Professionals
HRD-3006X2
1 available classes
This course offers support to professionals who are transitioning in their careers. The course includes lectures, activities, and opportunities for networking and support. Topics vary weekly and incorporate professional community resources that provide a current, real-world...
Computer Keyboarding Introduction
SEF-3001FB2
1 available classes
Keyboarding skills are essential today. This course will help students with little or no typing experience learn proper techniques for typing with all fingers, without hesitation, and for improving speed and accuracy.
Income Tax Planning 101
SEF-3001ER2
1 available classes
Learn about personal income tax returns, deductions, IRA contributions, tax-saving strategies, and more. This course is part of the Finance Academy series, for those who want to know more about investing, home buying, long-term care, and retirement.
Retired to Rehired
HRD-3003G2
1 available classes
This class will explore job search techniques for retired individuals who plan to seek gainful employment. The course will cover finding the right position to fit the retired individual's lifestyle. Students will explore techniques for tapping into the hidden job market....
Sales for People Who Don't Like to Sell
SEF-3001W1
1 available classes
In this course, students will learn and practice basic sales techniques, from the initial introduction stage through closing the sale and maintaining ongoing relationships. The course covers understanding sales, knowing your product and market, identifying relevant decision...
Behavioral Finance
SEF-3001AB2
This course introduces students to behavioral finance and provides a foundation for better financial decision-making. The first step to successfully investing money is to not lose it! The course will cover the theory and practice of behavioral finance, including common heuri...
Career Readiness for the Child/Elder Care Provider
HRD-3004AV4
This course is designed for unemployed/underemployed adults and displaced workers who are interested in learning more about becoming care providers. Participants will explore child and elder care provider roles, job duties, working and learning environments, social aspects o...
Chakra Yoga for Plus 50
CSP-4000HE2
Chakras are channels of communication between the brain and the body. Explore the poses associated with the chakras, which correspond to the nerve plexuses along our spine. They allow the flow of life force energy, called prana or chi. For fun, wear the color associated with...
Gentle Yoga Utilizing Props for Plus 50
CSP-4000HC2
Yoga is a whole-body exercise program for people of all ages. With the help of props like chairs and towels, students can learn poses to achieve proper alignment and fit their own bodies more comfortably.
Healthy Aging
SEF-7999E
As the U.S. population ages, opportunities abound for working with seniors in various settings that support quality of life. This certificate program presents an overview of the aspects of aging and health in the later years. It helps to build a foundation for the treatment...