Plus 50 Lifelong Learning
Wake Tech's Plus 50 program offers courses such as yoga, dance, Spanish, and scrapbooking. If you take a course at a location other than a Wake Tech campus such as a senior center, then you must register for a course at that specific senior center.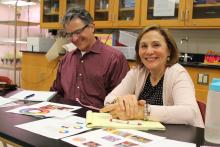 In addition to courses offered at various Wake Tech campuses and sites, we offer programs at senior centers, community and recreation sites throughout Wake County. 
Partner sites and senior centers
Become an Entrepreneur
You may have dreamed of starting a business or turning hobbies or volunteer work into a money-making operation. Wake Tech's Small Business Center and Entrepreneurship Initiatives programs have resources to help get you started. Talk with an SBC advisor (live and in person!) in a free, confidential session, any time questions arise.
Retired to Re-hired!
Going back into the workforce can be daunting: You may wonder about your tech skills or generation gaps in the workplace - or you may be seeing a challenge you haven't identified yet. Wake Tech's Career Transitions Forum is a great place to start. This unique, weekly series of lectures and networking activities brings professionals together to share ideas and experience in a supportive environment. 
Course Details & Registration Information
Course
Hire Yourself: Create Your Own Career
Name
HRD-3004BM2
Overall Quality of This Course
Based on 11 student surveys.
Available Classes
Intended Audience
Unemployed and underemployed jobseekers.
Description
Explore opportunities for self-employment with little startup expenses. Learn about various possibilities for launching and developing a business of your own and how to get started. If your work history is less than ideal or if you have limited education, a criminal record, or other obstacles on the road to rewarding employment, this course can help you find success.
Course Objectives
have identified transferable skills.
have explored legal and regulatory guidelines for launching a business.
have reviewed opportunities for self-employment positions in various industries.
have identified methods to develop relationships with clients.
have developed an action plan.
have explored additional training opportunities.
Outline of Instruction
Module 1 - Registration, self assessment, overview and transferable skills
Module 2 - Barriers to employment and opportunities for self employment
Module 3 - Effective communication and presentation skills for entrepreneurs
Module 4 - Components of a business plan
Module 5 - Exploration of business ventures
Module 6 - Putting a plan into action
Contact Hours
14
CEU's
No
Industry Standard, State, or National Certification
No
CE to CU Articulation
No
Prerequisites
N/A
Text and Supplies Needed
Handouts provided by instructor
Clinical Site/Special Facilities
Requirements for Successful Completion of this Course
Attendance 95% or above
Participation
Accreditation/Special Approval Requirements
Intended Audience
Unemployed and underemployed jobseekers.
Specific Industry or Business Support Needs
Industry or Job Titles Related to training Outcomes for Employment
Related Courses
Career Readiness-Success Strategies - HRD-3004A4
Course Contact Information
HRD Office http://hrd.waketech.edu
919-532-5694 or 919-532-5696