Plus 50 Lifelong Learning
Wake Tech's Plus 50 program offers courses such as yoga, dance, Spanish, and scrapbooking. If you take a course at a location other than a Wake Tech campus such as a senior center, then you must register for a course at that specific senior center.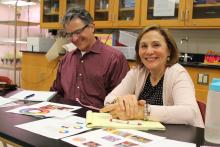 In addition to courses offered at various Wake Tech campuses and sites, we offer programs at senior centers, community and recreation sites throughout Wake County. 
Partner sites and senior centers
Become an Entrepreneur
You may have dreamed of starting a business or turning hobbies or volunteer work into a money-making operation. Wake Tech's Small Business Center and Entrepreneurship Initiatives programs have resources to help get you started. Talk with an SBC advisor (live and in person!) in a free, confidential session, any time questions arise.
Retired to Re-hired!
Going back into the workforce can be daunting: You may wonder about your tech skills or generation gaps in the workplace - or you may be seeing a challenge you haven't identified yet. Wake Tech's Career Transitions Forum is a great place to start. This unique, weekly series of lectures and networking activities brings professionals together to share ideas and experience in a supportive environment. 
Course Details & Registration Information
Course
Computer Basics for Plus 50
Name
CSP-4000JV2
Available Classes
Intended Audience
This course is for the Plus 50 adults who need basic computer skills
Description
Are you thinking about getting a new computer or upgrading to Windows 10? Computer Basics is for the inexperienced or novice adult user. By the end of this class students will have experience using the Microsoft Windows Operating system.
Course Objectives
Understand the basic Windows Operating System

Learn about the Microsoft Windows Desktop Graphical User Interface (GUI)
Get to know the Control Panel and about Microsoft Settings
Outline of Instruction
Windows 10 Operating System Basics
Common Computer Terms and Acronyms
Internet Basics, World Wide Web, Web Browsers, and Useful Web Addresses
Windows Explore and File Structure
Demonstrating the Importance of the Control Panel and the Microsoft Settings
Window
Contact Hours
12
CEU's
No
Industry Standard, State, or National Certification
No
CE to CU Articulation
No
Prerequisites
None
Text and Supplies Needed
None
Clinical Site/Special Facilities
N/A
Requirements for Successful Completion of this Course
Attendance 90% or above
Participation
Demonstrate an understanding of at least 70% of course material taught.
Accreditation/Special Approval Requirements
N/A
Intended Audience
This course is for the Plus 50 adults who need basic computer skills
Specific Industry or Business Support Needs
Industry or Job Titles Related to training Outcomes for Employment
Related Courses
Computer Basics: Microsoft Windows 10 - SEF-3001IO2
Course Contact Information
Community & Career Education Staff
919-532-5700