Plus 50 Lifelong Learning
---
Plus 50 Sites and Programs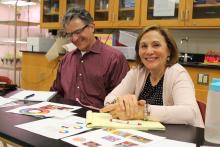 In addition to courses offered at various Wake Tech campuses and sites, we offer programs at senior centers, community and recreation sites throughout Wake County:
---
Example offsite courses include yoga, dance, Spanish, and scrapbooking.  One must register at the specific senior center for these courses and to see the list of classes available.
Become an Entrepreneur
You may have dreamed of starting a business or turning hobbies or volunteer work into a money-making operation. Wake Tech's Small Business Center and Entrepreneurship Initiatives programs have resources to help get you started. Talk with an SBC advisor (live and in person!) in a free, confidential session, any time questions arise.
Retired to Re-hired!
Going back into the workforce can be daunting: You may wonder about your tech skills or generation gaps in the workplace - or you may be seeing a challenge you haven't identified yet. Wake Tech's Career Transitions Forum is a great place to start. This unique, weekly series of lectures and networking activities brings professionals together to share ideas and experience in a supportive environment. 
---
Course Details & Registration Information
Course
Chakra Yoga
Name
CSP-4000HE2
Available Classes
Intended Audience
Anyone interested in participating in a yoga class. Chakra Yoga is open and fun for everyone.
Description
Chakras are channels of communication between the brain and the body. Explore the poses associated with the chakras, which correspond to the nerve plexuses along our spine. They allow the flow of life force energy, called prana or chi. For fun, wear the color associated with each chakra.
Course Objectives
learn about each chakra and the parts of the body they affect
explore and practice specific poses to open each chakra
Outline of Instruction
Week 1: Root plexus – muladhara chakra - red
Yoga Focus: Grounding
Poses: Root lock, seated poses, forward folds
Week 2: Sacral plexus – svadishthana chakra - orange
Yoga Focus: Order
Poses: hip openers.
Week 3: Solar plexus – manipura chakra - yellow
Yoga Focus: Wisdom
Poses: Backbends and twists, core exercises.
Week 4: Cardiac (heart) plexus – anahata chakra - green
Yoga Focus: Love
Poses: Heart (chest) openers, breath work (pranayama).
Week 5: Pharyngeal (throat) plexus – visuddha chakra - blue
Yoga Focus: Power
Poses: Shoulder openers and neck stretches, some exploration of sound
Week 6: Carotid plexus and cerebral cortex – ajna and sahasrara chakras – indigo, violet, purple
Yoga Focus: Imagination and understanding
Poses: Review all and then spend a longer amount of time in beginning meditation and final relaxation
Contact Hours
6
CEU's
No
Industry Standard, State, or National Certification
No
CE to CU Articulation
No
Prerequisites
None
Text and Supplies Needed
None
Clinical Site/Special Facilities
Requirements for Successful Completion of this Course
Attendance 100%
Participation
Accreditation/Special Approval Requirements
Intended Audience
Anyone interested in participating in a yoga class. Chakra Yoga is open and fun for everyone.
Specific Industry or Business Support Needs
Industry or Job Titles Related to training Outcomes for Employment
Related Courses
Course Contact Information
Michael Langer
919-532-5526