Plus 50 Lifelong Learning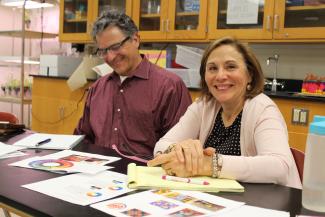 Wake Tech offers courses designed especially for adults 50 and over that can help you discover a new career, improve your job search skills, plan for retirement, or explore personal interests. 
At our Plus 50 events, you can sample courses and attend presentations from community experts on a wide variety of topics - small business counseling, long-term healthcare, retirement, beer brewing, flying commercial drones, and much more! Stay tuned for announcements about upcoming Plus 50 events. 
---
Plus 50 Expo

Save the date! The Plus 50 Expo is coming to Wake Tech Northern Wake Campus on Tuesday, March 13. 

More details coming soon!
---
Check out these programs and resources:
Become an Entrepreneur
You may have dreamed of starting a business or turning hobbies or volunteer work into a money-making operation. Wake Tech's Small Business Center and Entrepreneurship Initiatives programs have resources to help get you started. Talk with an SBC advisor (live and in person!) in a free, confidential session, any time questions arise.
Retired to Re-hired!
Going back into the workforce can be daunting: You may wonder about your tech skills or generation gaps in the workplace - or you may be seeing a challenge you haven't identified yet. Wake Tech's Workforce Continuing Education division can help -- and the Career Transitions Forum is a great place to start. This unique, weekly series of lectures and networking activities brings professionals together to share ideas and experience in a supportive environment. 
---
Course Details & Registration Information
Course
Horticulture Therapy for Seniors
Name
CSP-4000ES2
Available Classes
Intended Audience
Plus 50 Program
Description
Would you like to create a beautiful centerpiece or arrangement for your home? This course will show you how! You'll learn how to choose and care for a variety of plants, and how to design a decorative piece using color, shape, size, and container – in traditional and more modern styles of flower arranging.
Course Objectives
learn the blending of color schemes within flowers and nature and how to combine them to create and form a work of art using short/long stem flowers and accessories in a container.
learn how to plant in glass containers for a long-lasting array of floral designs.
Outline of Instruction
Week 1 - Learning to enjoy the differences in sizes and shapes of planting vases and containers using fat, skinny and unique holders. Decorating vases and designing seed cards to produce finished take-home products. Discuss the concepts of soil, seeds and container requirements for plants. Create small terrarium gardens, using coke bottles or clear see-through containers.
Week 2 - Learn the primary colors and how to use them in horticulture design; bold colors, bright, intense light - how do they make you feel? Use the five senses of how flowers impact our thoughts and behavior. What is your favorite flower and how does it make you feel? Use open glass jars to measure space and figure out how much soil, seeds or size of plants can be placed inside containers.
Week 3 - Enjoy and appreciate nature without altering or modifying what occurs on a daily basis. Discuss seasonal flowers and how the seasons impact that types of flowers, soil and 'mood' help in planting both indoor and outdoor flowers. Talk about organic ways of planting. Discuss the idea of journaling - keep track of seeds and flower locations and how they work indoor with every day seeds and where your flowers grow best. Use paints to label and recognize seed differences. Make a seed fan to use and to take home.
Week 4 - Introduce and learn about herbs - create herbal butters using herbs. Use wet, dry or frozen herbs in trays and discuss how to create these for table use. Discuss herbal oils and how to create them to use for foods. Fill cruets with herbal oils and take home along with herbal butters.
Contact Hours
12
CEU's
No
Industry Standard, State, or National Certification
No
CE to CU Articulation
No
Prerequisites
Text and Supplies Needed
Clinical Site/Special Facilities
Requirements for Successful Completion of this Course
Attendance 90% or above
Participation
Accreditation/Special Approval Requirements
Intended Audience
Plus 50 Program
Specific Industry or Business Support Needs
Industry or Job Titles Related to training Outcomes for Employment
Related Courses
Course Contact Information
Courtney Boney
919-334-1612