Plus 50 Lifelong Learning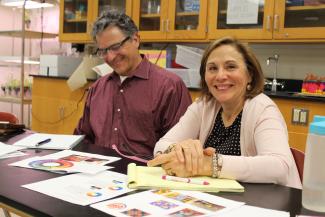 Wake Tech offers courses designed especially for adults 50 and over that can help you discover a new career, improve your job search skills, plan for retirement, or explore personal interests. 
At our Plus 50 events, you can sample courses and attend presentations from community experts on a wide variety of topics - small business counseling, long-term healthcare, retirement, beer brewing, flying commercial drones, and much more! Stay tuned for announcements about upcoming Plus 50 events. 
---
Check out these programs and resources:
Become an Entrepreneur
You may have dreamed of starting a business or turning hobbies or volunteer work into a money-making operation. Wake Tech's Small Business Center and Entrepreneurship Initiatives programs have resources to help get you started. Talk with an SBC advisor (live and in person!) in a free, confidential session, any time questions arise.
Retired to Re-hired!
Going back into the workforce can be daunting: You may wonder about your tech skills or generation gaps in the workplace - or you may be seeing a challenge you haven't identified yet. Wake Tech's Workforce Continuing Education division can help -- and the Career Transitions Forum is a great place to start. This unique, weekly series of lectures and networking activities brings professionals together to share ideas and experience in a supportive environment. 
---
Course Details & Registration Information
Course
History of Women Film Directors
Name
CSP-4000EI2
Available Classes
Intended Audience
For history lovers and Au Pairs
Description
This course provides an overview of three American films written and directed by women. Students will see and discuss one film each week. Films will include two lesser-known independent films in the "lonely woman drifter" genre: Barbara Loden's Avant-garde Wanda; Debra Granick's contemporary, low-budget Down To The Bone; and a big-budget Hollywood film, Susanne Bier's Things We Lost In The Fire.
Course Objectives
Upon successful completion of course, participants will have an advanced
understanding of modern and contemporary women film makers. They will also become
familiar with Avant -garde film making of the 1970's, as well as both contemporary independent
film, story structure, contemporary big budget film, and film budget vs. box office revenues.
Outline of Instruction
Class 1: Wanda 1970 Barbara Loden. Ultra low budget Avant-garde.
Discussion on avant-garde, experimental, feminist 1970's films. Intro to story structure.
Class 2: Down To The Bone 2004 Debra Granik. Low budget independent film.
Discussion on low budget film making and story structure.
Class 3: Things We Lost In The Fire 2007 Susanne Bier. Big budget film.
Discussion on big budget film making and box office revenue. Further discussion on story
structure.
At each class we will discuss:
1)Whose story is it? What do they want? What's stopping them from getting it? What's at stake?
2)What is lacking in this film? What could make it better?
3)Do you think this film would be popular in your country and with what kinds of people?
4)Do you think it would be offensive in your country and with what kinds of people?
5)Can you think of other films with similar subject matter or style?
6)At the end of the course – Which film did you like the most and why? Which did you like the
least?
Contact Hours
12
CEU's
No
Industry Standard, State, or National Certification
No
CE to CU Articulation
No
Prerequisites
Text and Supplies Needed
Clinical Site/Special Facilities
Requirements for Successful Completion of this Course
Attendance 90% or above
Participation
Accreditation/Special Approval Requirements
Intended Audience
For history lovers and Au Pairs
Specific Industry or Business Support Needs
Industry or Job Titles Related to training Outcomes for Employment
Related Courses
Course Contact Information
Courtney Boney
919-334-1612