In The Community
Scott Northern Wake Campus Serves as Drive-Thru COVID-19 Testing Site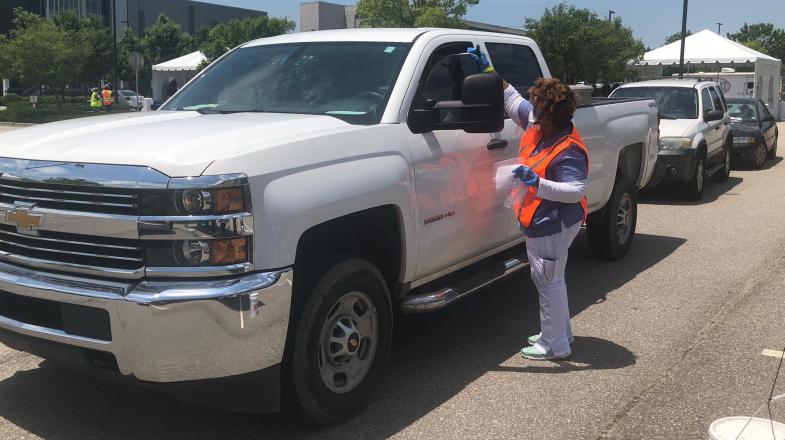 RALEIGH, N.C. (June 22, 2020) – Wake County residents flocked to Wake Tech's Scott Northern Wake Campus this week for free coronavirus tests. The campus served as one of eight testing sites set up thus far by county health officials.
The free service provided an easy and efficient way for residents to learn if they have the virus. Some 500 people scheduled an appointment online in advance and got tested on campus on Monday and Tuesday.
Traffic was steady at the testing site, which operated from 10 a.m. until 3 p.m. both days, but residents avoided long lines as they were given a 30-minute window of time to arrive for their test.
Tests were reserved for who:
Have COVID-like symptoms, including fever, cough, shortness of breath, nausea or vomiting, and loss of smell;
Have been in close contact with a known positive case of COVID-19;
Are healthcare workers or first responders;
Work in high-risk settings like long-term care facilities, correctional facilities or homeless shelters;
Are 65 years old or older;
Have underlying health conditions;
Are a member of a vulnerable or historically marginalized population;
Have attended a mass gathering or protest; or
Are a frontline worker in a setting where social distancing is difficult.
Wake County Public Health continues to offer additional testing opportunities at different locations throughout the county in the coming days and weeks. For upcoming testing dates and locations, visit wakegov.com/testing.