Events
Nursing Graduates Heading into the Fight Against COVID-19
College Hosts Special Curbside Pinning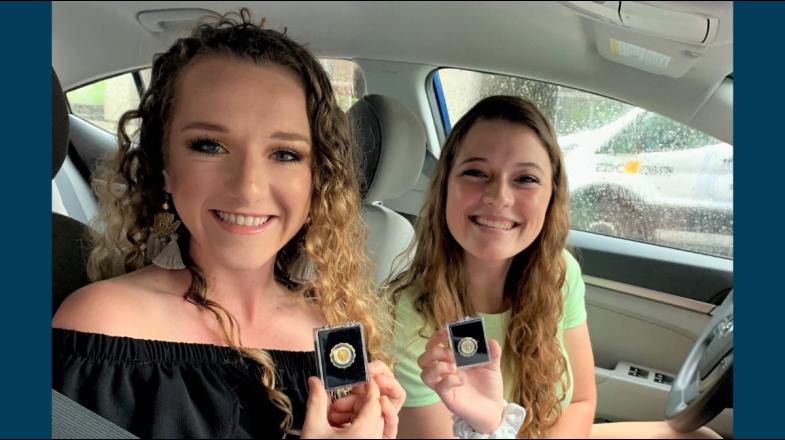 RALEIGH, N.C. (April 20, 2020) – The fight against the coronavirus pandemic in the Triangle is about to get a boost from Wake Tech Community College. Sixty-four soon-to-be graduates of Wake Tech's Martha Mann Smith School of Nursing will be able to enter the workforce prior to taking their licensure exam to help support healthcare workers battling COVID-19.
Graduates lined up in their cars on Friday, April 17 and Monday, April 20 to attend a special curbside pinning ceremony at the Perry Health Sciences Campus in Raleigh. At the drive-by ceremony, students remained in their vehicles to observe social distancing rules. In addition to their pins, the graduates received a lamp and a copy of the Florence Nightingale pledge - symbols of their commitment to the nursing profession.
Graduates say they are ready to get to work. "Wake Tech gave us the skills we need," said Alyssa Tsoumbos. "We learned how to take care of ourselves and other people."
Fellow graduate Jessica Hernandez agrees. "We had rough days and there were tears for sure," she said. "But our instructors trained us the very best! We're very excited to get out there and help."
"We are very proud of these students," said Wake Tech President Dr. Scott Ralls. "They're going straight from us into the workplace - right to the front lines of this global pandemic."
With approximately 300 students and about 150 graduates each year, Wake Tech has one of the region's largest nursing programs. In light of the current pandemic, the NC Board of Nursing (NCBON) recently instituted "Graduate[TA1] Registered Nurse" status, which enables nursing graduates to go straight to work under the supervision of a nurse while waiting to take the NCLEX. Testing during the pandemic is expected to take longer than usual due to a significant reduction in the number of testing sites open across the state and the number of students they are able to accommodate at any given time. Graduates will need to apply for licensure through the NCBON, apply to take the NCLEX, and complete a criminal background check before they can work as Graduate Registered Nurses.
"I'm happy the NCBON is letting our students enter the workforce now," said Ann Marie Milner, department head of the Martha Mann School of Nursing and a member of NCBON. "They are prepared to help care for people in our community."
Graduates will be ready to enter the workforce as early as May 8 and most have already been hired. Ninety-eight percent of Wake Tech's nursing graduates typically pass the NCLEX licensure exam on their first attempt and 95% of graduates are usually employed within six months.
Dr. Ralls said he's hopeful the college can recognize the graduates with a more traditional ceremony in the future. "One day we'll bring them back for a much bigger celebration, because they are a special class for us," said Ralls.