Athletics
Women's Basketball Team Wins First Regional Championship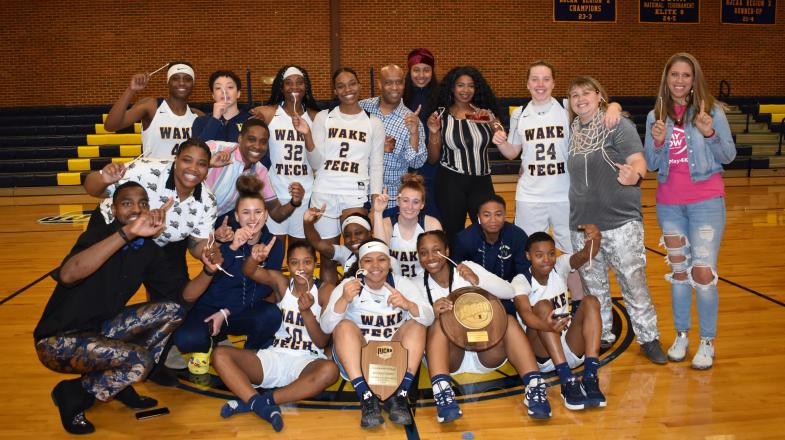 RALEIGH, N.C. (March 10, 2020) – Go Eagles! Wake Tech's women's basketball team is celebrating its first regional championship and an invitation to compete in the National Junior College Athletic Association (NJCAA), Division II Women's National Tournament.
During a live selection show Tuesday, Wake Tech learned they are the 12th seed and are scheduled to play 5th seed Bryant & Stratton from Wisconsin. The tournament, which was set to tip off next week, has been postponed because of recent developments regarding the coronavirus (COVID-19).
The Eagles defeated Louisburg College to become Region 10 regular season champs. Bernadette Cooke led Wake Tech with 22 points and Andreal Bass snagged a dominating 23 rebounds. The team also scored impressive wins against The University of South Carolina Salkehatchie and Cape Fear Community College.
"This is the most amazing experience," said second-year head coach and former Wake Tech basketball player Alison Beasley. "We have grown so much as a team, and I can't wait to see what the future holds for these women and our program."
Wake Tech's men's basketball team advanced to the national tournament in 2019 and finished fourth in the country in 2014.
In addition to men's and women's basketball, Wake Tech offers 8 other athletic programs, including men's baseball, men's and women's golf, men's and women's soccer, women's softball, women's volleyball, and a cheerleading and mascot team. Wake Tech will also add a varsity esports team in the fall. For more information on Wake Tech's athletics program, visit waketechsports.com.