Employee News
Employee Among Select Group of National Fulbright Scholars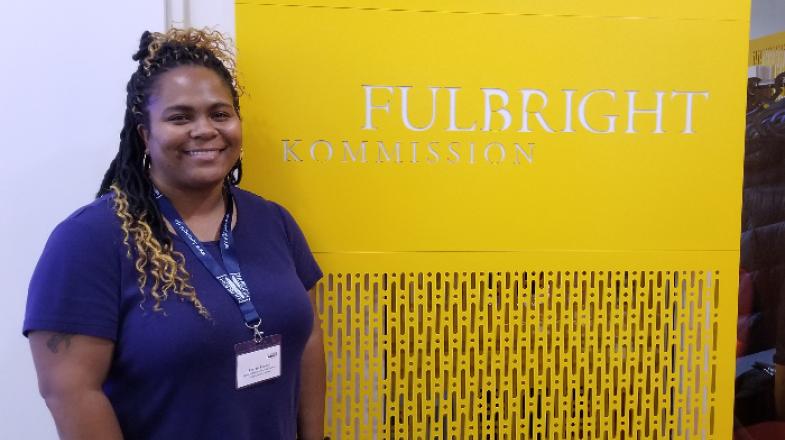 RALEIGH, N.C. (March 10, 2020) - As the coordinator of international student admissions at Wake Tech, Princess Solomon hoped to one day travel abroad as a Fulbright Scholar.
So when she got the chance last fall as a recipient of the Fulbright International Education Administrators (IEA) grant, the experience did not disappoint.
"The Fulbright program was life changing and an eye opener," she said. "Since I have been in the field of international education for more than 13 years, I was looking for the next level of my professional career and being a Fulbright Scholar exceeded my expectations."
Solomon and 14 other education administrators from colleges and universities across the United States spent two weeks at the end of October and early November in Germany learning about the educational system. They met and collaborated with education administrators in Berlin, Nuremburg, and Karlsruhe, and they also spent a day in Strasbourg, France, and visited the European Parliament.
"The program was a great opportunity to learn about the German educational system from primary to post-secondary education, network and experience the culture on a firsthand basis," Solomon said.
Solomon said she enjoyed seeing the similarities and differences in education in Germany compared to the United States.
"The part I liked the most was networking with the German administrators and walking on the campus of Technische Hochschule Nurnberg," she said. "When I walked on their campus, I was overwhelmed and in disbelief that I was given such an honorable opportunity of a lifetime."
Solomon said her travel abroad experience has given her better insight into the needs of international students at Wake Tech, especially during the admissions process.
"When I'm assisting international students, I feel like I can relate to them better and can provide better guidance when they are applying to Wake Tech," she said. "I've also enlarged my network of international educators to better collaborate about immigration issues and best practices for the college's International Student Office."
The Fulbright Program is the U.S. government's flagship international educational exchange program and is designed to build lasting connections between the people of the United States and the people of other countries. It is funded through an annual appropriation made by the U.S. Congress to the U.S. Department of State.
Solomon is one of two national Fulbright scholars from North Carolina community colleges for 2019-20, and is Wake Tech's second Fulbright Scholar. Santrell Caison, dean of admissions and outreach, participated in the Fulbright International Education Administrators Program in 2011.
Recipients of Fulbright awards are selected on the basis of academic and professional achievement, as well as record of service and demonstrated leadership in their respective fields.
Solomon has an associate in applied science in accounting from Vance-Granville Community College; an associate in general education from Wake Tech; a bachelor of science in business education from East Carolina University; and a master of science in accounting from Liberty University.