Events
East Coast Game Conference to Feature Esports Leader Wim Stocks
Wake Tech Plays Key Role in Annual Event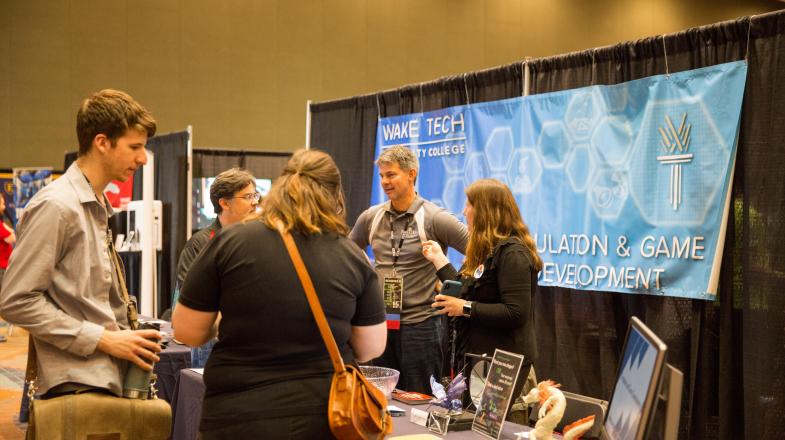 RALEIGH, NC, (March 6, 2020) - Wim Stocks, a progressive leader in online gaming and esports, will present the keynote address at the annual East Coast Game Conference, April 7-9, at the Raleigh Convention Center. The East Coast Game Conference, which draws thousands each year, is the largest gathering of video game professionals on the east coast. Staff and faculty with Wake Tech's Simulation and Game Development program are key organizers of the annual event.
"We're excited that Wim Stocks will headline this year's conference," said Cindy Foster, Wake Tech's Simulation and Game Development program director. Foster is also on the Board of Directors for the Triangle Game Initiative, which organizes the conference. "Game development students, and those interested in esports, will get to hear from one of the world's most respected leaders in esports."
Stocks' appearance is of particular interest this year as Wake Tech prepares to add esports to its competitive athletics programs. Among the games being considered for Wake Tech's program are Overwatch, League of Legends, and Rocket League. Teams will play in a specialized computer lab on the Southern Wake Campus beginning next fall.
Wim Stocks has been a prominent name in online, interactive and electronic entertainment since 1990. He is currently General Manager and Chief Executive Officer of WorldGaming & Collegiate StarLeague, where he spearheads online and live esports strategies, initiatives, and programming. His previous achievements including the launch of an entrepreneurial online game publishing business called Elephant Entertainment in 2006, which he sold to leading games publisher THQ four years later. Prior to that, he was Executive Vice President of Atari, Inc.
The East Coast Game Conference (ECGC) is the leading forum for game industry professionals and students on the east coast. ECGC's goal is to provide attendees the opportunity to network, share industry trends, and build careers as well as look to the future of the industry. The conference features panels and lectures by game industry experts covering a wide variety of topics, and includes an exhibit hall, career lounge, and social events. Registration is now open at: http://www.ecgconf.com/register/. For more information, contact Walter Rotenberry at 919-578-8579. Visit us on social media:
Facebook
Twitter
LinkedIn