Events
Wake Tech Culinary Creations Graduation
Class Trains Students with Barriers to Employment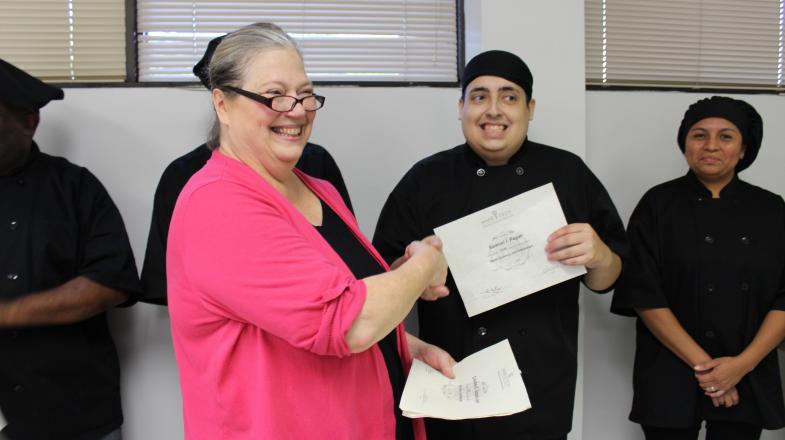 RALEIGH, N.C. (July 18, 2019) - Students who need an extra boost to become independent participated in graduation exercises today at Community Workforce Solutions in Raleigh. They completed Wake Tech's Culinary Creations class, a non-degree training program that provides students with disabilities or other barriers to employment the opportunity to earn nationally recognized culinary certifications, including ServSafe Food Handler, Kitchen Cook, and Restaurant Server. Students also receive job coaching and assistance with applications and job leads.
Wake Tech offers the Culinary Creations program in partnership with Community Workforce Solutions, a non-profit organization that provides training and job placement services to adults with barriers to employment. In November 2018, Culinary Creations won an Integrative Program Award from the North Carolina Association of Rehabilitation Facilities (NCARF).
"The partnership between Wake Tech and Community Workforce Solutions is a fantastic collaboration that promotes quality workforce training and meets the needs of local employers," said Sameer Pawa, director of Wake Tech's non-degree hospitality training programs. "Students learn essential skills for working in a kitchen, and they also make connections with employers."
Today's graduation included a brunch prepared by the graduates, and took place in a brand new ADA-compliant training kitchen, made possible through donations from a variety of partners, including Wake Tech, who donated the classroom tables and chairs.
Cristina Vasquez-Lopez currently works at Shaw University with the Thomson Hospitality group, and her employer sponsored her to be in the class so she could earn credentials and enhance her skills. "I want to thank my employer for allowing be to attend this class. The certifications will really help me."
Blake Drew has hopes of working for NC State University, and said "I want to follow in my dad's footsteps and become a cook. I want him to be proud of me."
Several local employers were on hand to talk with students about job opportunities, including Panera Bread, NC State University Dining, St. Augustine's University, Hampton Inn, Sugar Buzz Bakery located in Cary, and Thompson Hospitality which serves Shaw University.
To date, more than 60 students have graduated from the program, and sixty-eight percent of the graduates have obtained employment.
For more information, visit the website or contact Sameer Pawa at 919-866-6158.