Student Success
Two Wake Tech Students Win US Foods Scholarship
Students Receive Support for Culinary Education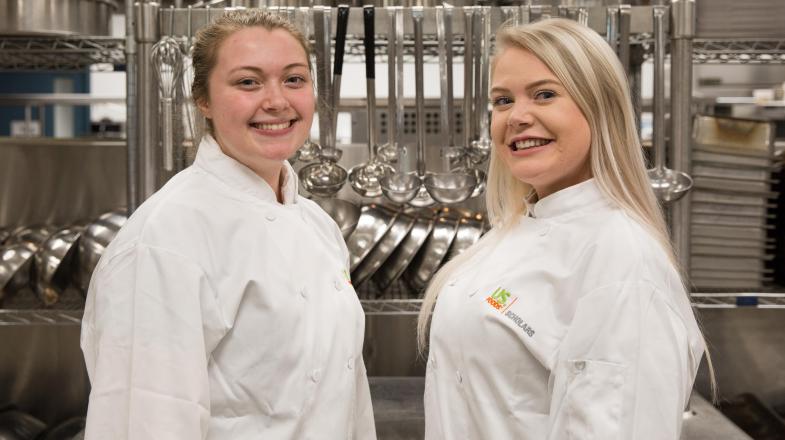 RALEIGH, N.C. (April 9, 2019) - US Foods, a leading food service distributor serving approximately 250,000 restaurants and food service operations, has chosen two Wake Tech students as recipients of the US Foods Scholars Award. These are the first students from Wake Tech to receive this prestigious award.
The students receiving the award this year are Lillie Hood of McGee's Crossroads, a student in Baking and Pastry Arts, and Amber Fuqua, of Winston-Salem, a student in Hospitality Management.
US Foods awards two students annually a two-year scholarship of up to $20,000 each to support costs related to their culinary education. The company works with the Careers through Culinary Arts Program (C-CAP) and the American Culinary Federation (ACF) to identify deserving students who have demonstrated outstanding potential and achievement in the culinary arts and require additional resources to take the next step of their culinary journey. The program aims to inspire students to reach their full potential and contribute a meaningful solution to the talent shortage facing the restaurant industry.
Lillie Hood:
It was a natural to study Baking and Pastry Arts for Lillie Hood. She grew up baking. It's her passion. As high school was ending for her, she wasn't sure what she was going to do as a career. Friends advised her to do something she loves to do so she pursued her passion for baking and enrolled at Wake Tech. Her goal is to open a local bakery. Lillie describes herself as organized and artistic and she felt that those traits, combined with her skills and passion for baking were a natural fit for a career as a pastry chef. Being a US Foods Scholar will help her accomplish that goal, and one day open her own bakery. She said, "The scholarship has helped with paying for classes, books, and equipment needed for the program and has helped my studying as well as class performance."
Fun Facts about Lillie
Favorite dish: "I love baking cakes. My dad cannot eat dairy products, so I like to mess around with different ingredients and figure out what works and tastes good, so he can enjoy my creations."
Memorable kitchen moment: "My most memorable moment was when a fellow student put too much powdered sugar in their mixer to make buttercream icing. When they turned it on, it went everywhere. It reminded me that no matter what age or skill level you are, no one is perfect, and we can all learn from little mistakes."
What it means to be a US Foods Scholar: "Being a US Foods Scholar means that my dedication is not going unnoticed. It gives me a boost to not give up on my dreams, and it's something I can be proud of during challenging times."
Amber Fuqua:
Growing up, Amber and her family faced several hardships, but they worked together to make the most of what they had. Her childhood gave her an appreciation for being able to put food on the table. After graduating from high school in Winston-Salem, she attended UNC-Charlotte for two years. The fit wasn't right so she took a break from school to focus on a new direction. Amber got a job at a bridal boutique and there she found her passion, helping to plan weddings. With hopes of a new start, she researched ways to become a wedding planner and chose to enroll at Wake Tech where she could focus on hospitality. After graduation, she hopes to pursue a bachelor's degree in Communications at NC State University. When asked about the US Foods Scholar Award, she said, "This scholarship has been more than a blessing for my education, as it has helped me make returning to school a possibility financially. Winning the scholarship has also given me reassurance that I am exactly where I need to be, doing exactly what I need to do. It has acted as proof that with hard work and dedication, a way to pursue your dreams will be made."
Fun Facts about Amber
Favorite dish: "Potato casserole! I also really love to bake anything sweet, preferably brownies."
Memorable kitchen moment: "My most memorable moment was the first time I cooked pho, a popular Vietnamese dish, with my boyfriend. It brought us closer in our relationship and cultural understanding."
What it means to be a US Foods Scholar: "Accepting this award fills me with gratification because I have now been exposed to both ends of the spectrum. By this, I simply mean that I know what it is like to go without food, as well as what it is like to be in a financially stable situation that allows you to truly enjoy what you eat."