Wake Tech Foundation
Wake Tech Names 2018 Scott Scholars
Two Students Receive College's Most Prestigious Honor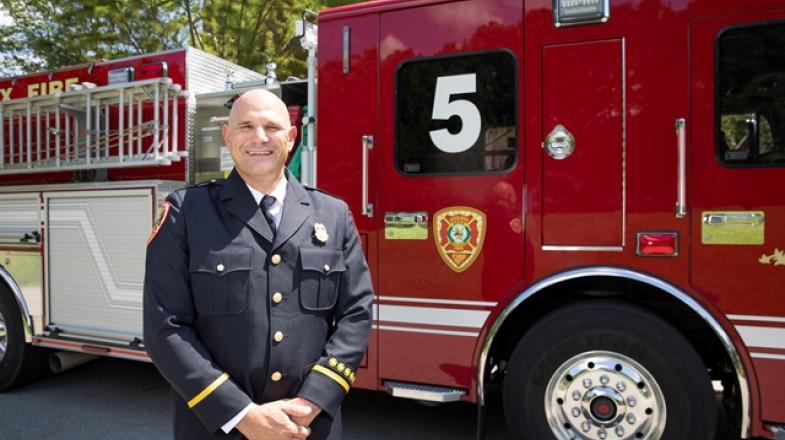 RALEIGH, N.C. (September 24, 2018) - Wake Tech Community College is pleased to announce the 2018 Scott Scholars. For the first time since the program began, two students have received the college's most prestigious and sought-after honor. Scott Scholars receive up to $3,500 for tuition, fees and books along with a laptop computer, a summer internship placement, a mentor from senior administration, and opportunities to participate in special events and projects. The program is a merit-based scholarship designed to provide leadership development opportunities for outstanding students in associate degree programs at Wake Tech.
The first recipient is 45-year-old Howard Miles, who is pursuing an associate's degree in Fire Science Technology. Miles is a lieutenant with the Apex Fire Department who works two other jobs while juggling his online classes. He is married with three children. "The scholarship will help tremendously with finances," says Miles. "Raising a family and going to college is not cheap!" Miles is a lifelong firefighter who is attending college for the first time to improve his knowledge of fire service and better his career. He also wants to give his kids a valuable lesson. "I want to show them that if you work hard anything is possible!"
The other Scott Scholar is Dusti Patterson, a 20-year-old student in Wake Tech's Engineering program. She serves in the U.S. Air Force Reserves and also volunteers. "I am so excited and at a loss for words!" Patterson says. "My parents support me but this scholarship will be extremely helpful when it comes to paying for books and tuition." Patterson has been described as a go-getter. Her ultimate goal: to graduate from Wake Tech, transfer to NC State, join the ROTC program, complete a bachelor's degree, and eventually become an officer in the Air Force. She also wants to give back. "I hope that one day I can contribute to an endowment for Wake Tech. I have absolutely enjoyed my time here!"
"We have a diverse student population here at Wake Tech," says Executive Vice President Dr. Gayle Greene. "Howard and Dusti are an example of how students can succeed and better their lives at any age! They've demonstrated the commitment and achievement that is rewarded by the Scott Scholars program."
The Scott Scholars program is named in honor of Wake Tech's third president, Stephen C. Scott, who retired last month after 15 years at the helm of the state's largest community college. It was established in 2012 with a $25,000 endowment from Wake Tech alumni Mark and Rachel Selisker. The program's goal is to raise $1,000,000 to support the participation of four Scott Scholars every academic year.