Events
Former Foster Child Beats the Odds, Earns a Degree 
Wake Tech Hosts Commencement Exercises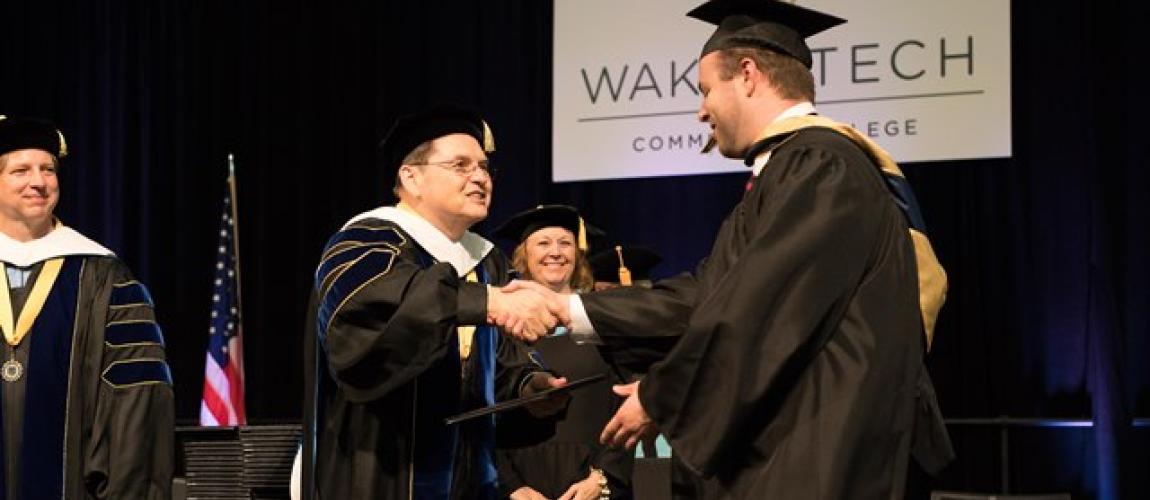 RALEIGH, N.C. (May 5, 2018) - A former foster child celebrated a major milestone today when she turned her tassel at Wake Tech's Spring 2018 Commencement Exercises. Shana Hilliard received an Associate in Applied Science (AAS) degree in Early Childhood Development.
Hilliard, who was in foster care during her teens, received support from Wake Tech's Fostering Bright Futures program. The program, now marking its tenth year, provides tutoring, mentoring, and financial support to help former foster youth pursue higher education. Shana Hilliard is the program's eleventh student to successfully complete a program at Wake Tech. Nationwide, only 8% of former foster youth earn a college degree.
"Working, going to school, and raising two kids is a lot," says Shana. "Fostering Bright Futures provides support and motivation. There is always someone in your corner saying 'you got this'. I don't think I would have been able to graduate without them!"
This semester, more than 1,700 students received degrees and diplomas. Four ceremonies were held in the gymnasium on Wake Tech's Northern Wake Campus. About 900 graduates participated in the commencement exercises.
This is a significant milestone in your personal growth," said Tom Looney, Chair of the Wake Tech Board of Trustees and retired Lenovo VP. "Today's graduation will be the beginning of a very successful career for each one of you."
Wake Tech President Dr. Stephen C. Scott offered advice to the 2018 graduates as he presided over the college's commencement exercises for a final time. "What can you do to be a better student, employee, parent, and friend? I challenge you to put into action what you have learned at Wake Tech to improve your life and the lives of your family and community."
Dr. Scott is retiring in August after a career spanning more than 40 years. He has been at the helm of Wake Tech since October 2003. Under his leadership, Wake Tech has become the largest of North Carolina's 58 community colleges, and has consistently ranked among the fastest-growing community colleges in the United States.
Among the graduates:
Two sets of spouses graduated: Andreas and Norma Jones each received an Associate in Arts degree. Chris Mathews received an AAS degree in Business Analytics, while his wife, Tracy, received an Accounting diploma.
Two sisters graduated together: Jolie and Jeanette Mutima each received an Associate in Arts degree.
Career and College Promise (CCP) student Dakota Romero, who is a 16-year-old homeschool student, completed an Associate in Arts degree while in high school.
68 graduates from the Wake Early College of Health and Sciences earned associate's degrees while completing the requirements for their high school diplomas.
Graduates included102 veterans.
Caleb Samson, a student athlete, received an Associate in Arts degree. He is moving on to Urbana University in Ohio to continue his studies and basketball career.
Student Government Association President David Kirstein told his peers to celebrate their success, "This moment represents a huge accomplishment!"