College Leadership
Wake Tech President Announces Retirement
Dr. Stephen Scott to Retire August 2018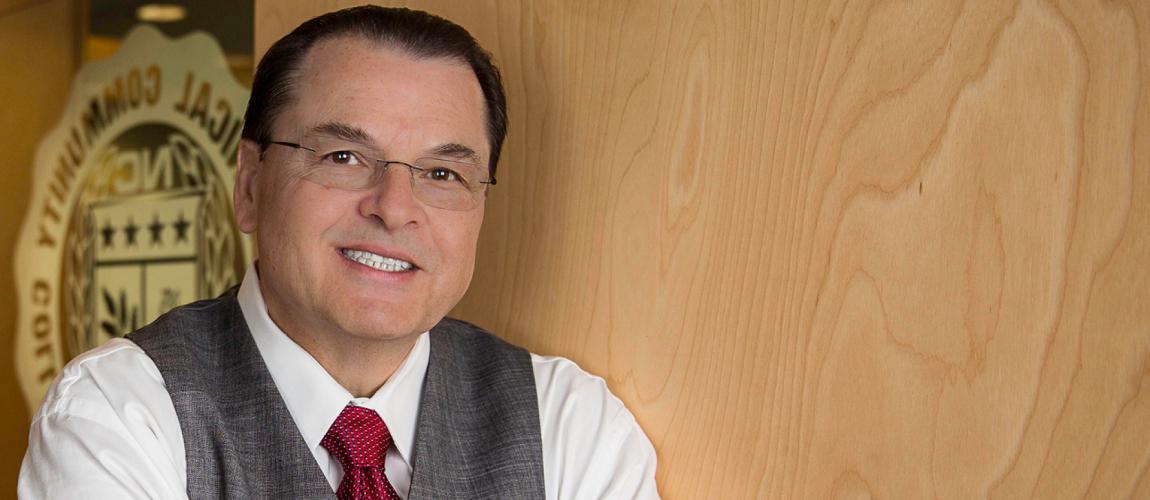 RALEIGH, N.C. (February 22, 2018) - Dr. Stephen C. Scott, president of Wake Technical Community College, has announced that he will retire, effective August 31, 2018.
With a career spanning more than 40 years, Dr. Scott has been at the helm of Wake Tech since October 2003. Under his leadership, Wake Tech has become the largest of North Carolina's 58 community colleges, and has consistently ranked among the fastest-growing community colleges in the United States.
"It has been an honor to lead this great institution," Dr. Scott says. "It is filled with passionate faculty, innovative staff, and the hardest-working students I have ever known. As I move forward with this next phase of my life, I am confident that Wake Tech will continue to change lives."
Dr. Scott's professional career began in South Carolina, where he served 16 years at two colleges – he was dean at Tri County Technical College and vice president at Greenville Tech. In North Carolina, Dr. Scott served as president of Southeastern Community College in Whiteville from 1988 to 1999, and then as executive vice president and chief operating officer of the North Carolina Community College System, from 1999 to 2002. He served as president of Lenoir Community College in Kinston from 2002 to 2003, before coming to Wake Tech.
"From the time I started teaching at a college, I knew I wanted to be a community college president," he says, "because I wanted to help people help themselves. I knew that access to technical training could help people better support their families and enjoy a greater quality of life."
Dr. Scott has led Wake Tech through a period of unprecedented growth:
Wake Tech's student population has grown from 50,000 in 2003 to more than 74,000 today
Full-time equivalent enrollment (FTE) – upon which the college is funded – more than doubled: from 9,700 to more than 21,000
The number of credentials (degree, diplomas, certificates) awarded grew from 1,911 to 8,754
Total budget went from $60 million to $279 million
Gross square footage owned or leased by the college went from 800,000 to 2.4 million
The number of full-time employees grew from 593 to 1,300
The college added the Western Wake Campus in 2005, the Northern Wake Campus in 2007, the Public Safety Education Campus in 2008, and the Beltline Education Center in 2015. This summer, Wake Tech will open the RTP Campus in Morrisville.
Wake County voters overwhelmingly supported bonds in 2004, 2007, and 2012 to enable Wake Tech to expand.
The college added competitive athletics in 2008, and a sworn law enforcement agency in 2012.
"When I started here 15 years ago, I saw a college full of promise, ready to grow by leaps and bounds – and it has done just that," says Dr. Scott. "It has been rewarding and exhilarating to be a part of that growth and the fulfillment of that promise."
Dr. Scott is Wake Tech's third president. In 2008, he was named NCCCS President of the Year by the NC Board of Community Colleges. He received the 2008 Business Leader of the Year Award from Business Leader magazine and the 2009 I.E. Ready Award from the NCSU Department of Adult and Higher Education. In 2012, Triangle Business Journal named him one of the 100 Most Influential Business Persons in the Triangle, and in 2016 TBJ named him a CEO of the Year. His legacy at Wake Tech includes Applied Benchmarking, a continuous improvement initiative in which all employees research best practices at other institutions and apply them at Wake Tech. Applied Benchmarking won the prestigious Bellwether Award from the Community College Futures Assembly in 2014.
Tom Looney, Chair of the Wake Tech Board of Trustees, says Dr. Scott's vision and leadership have made it possible for Wake Tech to accommodate its own rapid growth and to address the workforce development needs of our community.
"I want to congratulate and thank Dr. Scott for the incredible achievements that he has accomplished over the past 15 years at Wake Tech and throughout his 40+ year career in community colleges," says Looney. "He is a trusted leader in our state, respected by his trustees, faculty, staff, students, elected officials, business leaders and our community at large. We will continue to build upon Dr. Scott's accomplishments while celebrating and recognizing his countless successes."
The Board of Trustees will now begin the process to hire his successor.
Share your memories and appreciation for
Dr. Scott's service to our community.