Events
U.S Rep. David Price Announces $6 Million+ In Grant Awards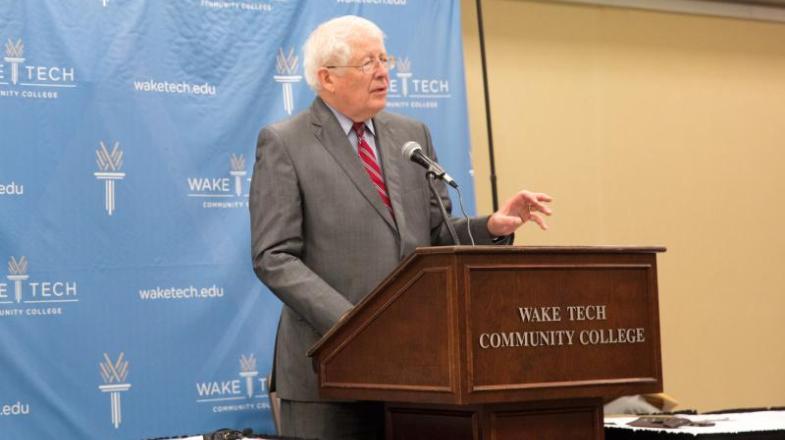 RALEIGH, N.C. (August 19, 2016) - U.S. Representative David Price visited Wake Tech Community College today to announce two major federal grant awards – including the largest grant in the college's 50+-year history. Congressman Price presented checks to Wake Tech President Dr. Stephen Scott. He also spoke with educators, administrators, and college partners about the opportunities these grants will provide for students, and their impact on the community.
"We are thrilled about these generous grants," said Dr. Scott. "They will help us do what Wake Tech does best: connecting people to opportunities that make industry and our community strong and vibrant!"
Rep. Price agrees. "Wake Tech is very good at generating proposals to secure federal grants. The college has a pattern of success when it comes to these vital partnerships."
Tech has received almost $4 million from the U.S. Department of Labor's "TechHire" program for innovative workforce training in cybersecurity. The initiative, which will be implemented in partnership with the Capital Area Workforce Development Board, will prepare at least 450 workers for well-paying jobs in these high-growth sectors. The college is one of 39 recipients nationwide who will share $150 million in TechHire funding.
The training initiative, called Project SECURE (Supporting and Enhancing CyberSecurity through Upwardly-mobile Retraining and Education), focuses on filling a critical need for workers with cybersecurity skills. It will train workers for high-skill jobs and help entry-level workers upgrade their skills and advance.
Wake Tech has also been awarded a five-year grant of more than $2.3 million from the U.S. Department of Education for its High School Equivalency Program (HEP). Wake Tech operates the only such program in the state (and one of only four on the east coast) funded by the Department of Education. This is the fourth consecutive DOE grant the college has received for the HEP program.
In the past 15 years, the HEP program has served 1,913 migrant seasonal farmworkers. The program opens up career opportunities for students as well as allowing them to complete high school credentials.
Wake Tech and other educational institutions rely on a range of grant awards to expand programs and services beyond what regular operating budgets allow.