Around WakeTech
Students Demonstrate Life-Saving Skills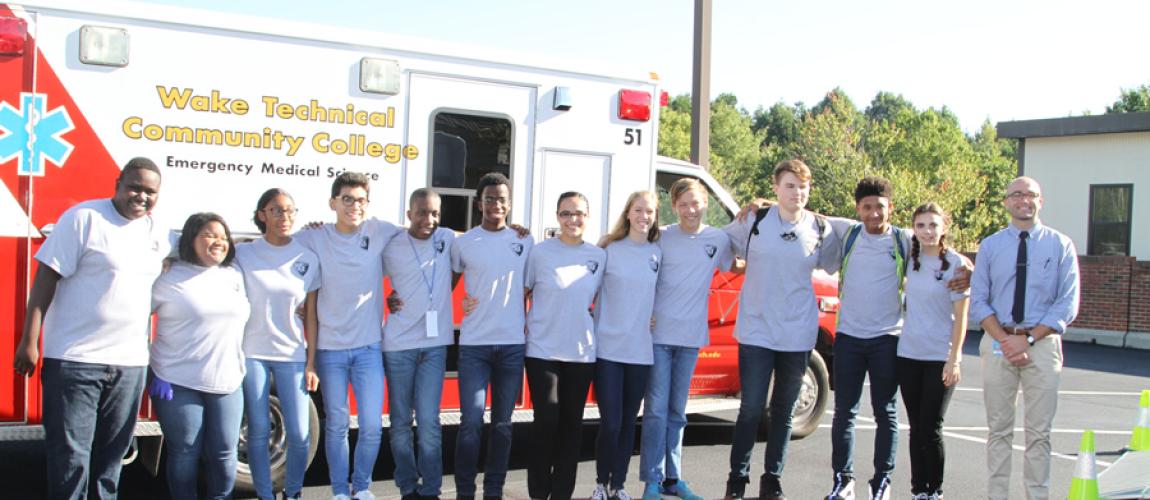 RALEIGH, NC (September 13, 2017) - Some Wake County high schoolers are getting a healthy "dose" of emergency medical skills along with their reading, writing, and arithmetic! They are enrolled at North Wake College & Career Academy (NWCCA), a new career and technical education high school in Wake Forest. The academy is a partnership between Wake County Public Schools and Wake Tech. Students can graduate with both a high school diploma and a certificate in one of five career areas, including emergency medical science.
Today, the high school students demonstrated some of the life-saving skills they have learned, with the help of EMS students from Wake Tech. They demonstrated cardiac arrest resuscitation, emergency treatment for a patient whose heart has stopped beating. The treatment is a complex combination of basic and advanced EMS procedures and requires multiple team members using techniques known as "pit crew resuscitation."
Wake County EMS teamed up with Wake Tech and NWCCA to help teach these high school students. The program will prepare them for EMT certification at the state level. Upon graduation, they will be eligible to work alongside Wake County's experienced paramedics, and be able to further their education to the level of paramedic, in preparation for a career in emergency care.
"We couldn't be happier to partner with Wake County Public Schools and Wake Tech on this important program," says Dr. Jose Cabanas, Director of Wake County EMS. "This program allows young people to focus and prepare throughout their high school years for a career with us in EMS."
"This collaboration is not only helping to fulfill the workforce needs of Wake County, but offering career and technical education to high school students in our community as well," says Molly Curry, Dean of Wake Tech's Health Sciences programs.
In addition to EMS, the North Wake College & Career Academy also offers career programs in Culinary Arts, Early Childhood Education, Hospitality Management, and IT-Technical Support.
NWCCA students earn college credit and pursue credentials in career and technical fields while completing the requirements for high school graduation. They can earn a certificate that equips them for entry-level employment - or transfer to Wake Tech to complete an associate degree in the corresponding program of study.