Events
Discovery Through Research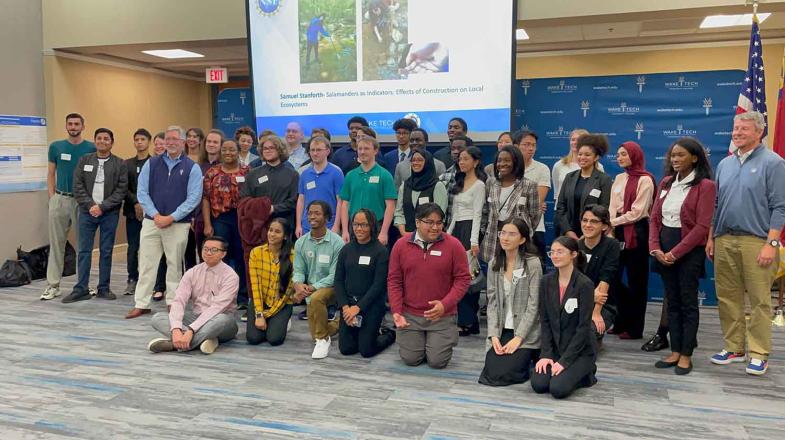 RALEIGH, N.C. (November 17, 2023) – Student researchers in Wake Tech's unique STEM Academic Research & Training (START) program took center stage Friday and presented their discoveries at the Fall 2023 Student Showcase.
From human habitation of Mars to mosquito diversity, 54 students studying science, math, engineering and technology at Wake Tech gained hands-on experience this semester as paid research interns in the START program. The experience culminated with the popular showcase, where the student researchers enthusiastically talked to curious faculty and staff about their work and answered questions.
Aaron Willets is one of four START interns who learned alongside engineers from the North Carolina Department of Transportation (DOT) this semester. He and his peers gained knowledge in photogrammetry, surveying, roadway design and hydraulics.
"I had no idea how complex roadways were, the cost of it and the amount of high school and college math that is involved in road design," Willets said. "I especially liked our time in the field working with DOT and using the tools they use. I got a lot out of being able to do it hands-on rather than just learning about it in the classroom."
Willets said he hopes to study nuclear engineering at North Carolina State University after Wake Tech, and he's landed an internship with DOT thanks to the START program. "The START program is a lot of fun, especially if you like learning new things," he said. "I've met a lot of new friends, and it's opened up a lot of doors for me."
Andrew Mosher built a 3D model to help calculus students better understand function concepts. "I'm taking calculus right now, so this helped immensely in my own studies," he said. "It can be difficult to visualize how functions are used to create a 3D object, so models are excellent visual tools for instructors to display and use in the classroom to help students grasp the complicated concept."
Thanks to a $1.4 million grant from the National Science Foundation, along with contributions from Terracon Foundation, the Christman Company, Clancy and Theys, Brooks Pierce and DeLisa Alexander, the students are paid $1,000 for a 60-hour commitment on their research project. That commitment includes 15 hours of training, five hours of community-building and 40 hours of research. All students are assigned a faculty mentor.
Much of the research is completed in the state-of-the-art STEM Lab in Building H on the Scott Northern Wake Campus and in labs on the Southern Wake Campus. Many of the research projects involve collaboration with local universities such as N.C. State, UNC-Chapel Hill and Fayetteville State University, as well as health care institutions.
"This is one of my favorite days of the year to come and learn about all the amazing things you are doing through this program, and I'm so excited to see what you are going to do in the future," Wake Tech President Dr. Scott Ralls told the researchers.
To date, 475 students have benefited from the START program.
The START program is accepting applications for the Spring 2024 semester. Research projects are available in biology, mathematics, 3D printing, geology and physics. For more information, visit waketech.edu/START.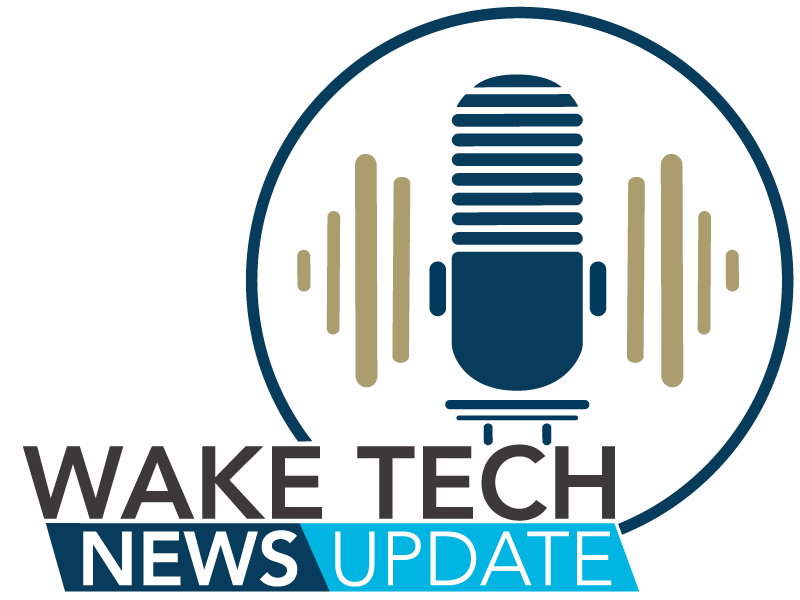 Latest News from Wake Tech