Events
College Celebrates Spring Graduates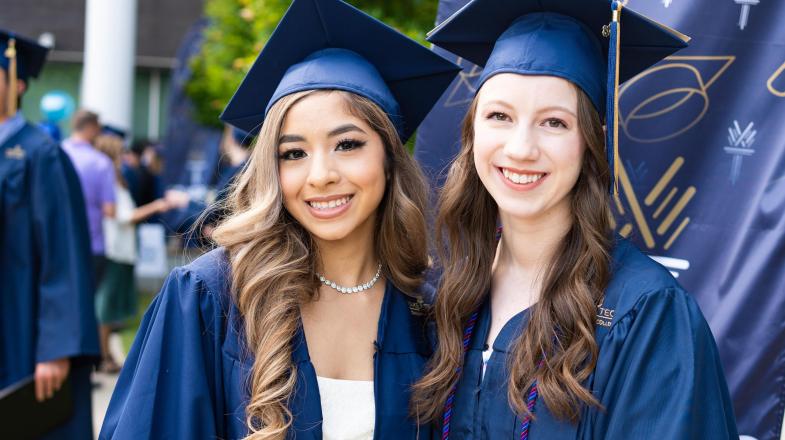 RALEIGH, N.C. (May 6, 2023) – Lots of hugs and cheers today as hundreds of Wake Tech graduates celebrated their accomplishments at the college's Spring Commencement celebration. Watch highlights here.
Three ceremonies were held at the Scott Northern Wake Campus in the Conlon Hall gymnasium. This year's celebration featured the first graduating classes of three degree programs at Wake Tech: Biotechnology, Public Safety Administration and Collision Repair and Refinishing Technology.
In all, more than 1,600 students ranging in age from 16 to 65 received their associate degree or diploma in an array of areas, including university transfer and technical programs such as health sciences, nursing, skilled trades, business and public services technologies, public safety, transportation and information technology.
A student speaker was selected for each ceremony to share personal stories of success and offer advice to fellow graduates:
Bradley Willson enrolled at Wake Tech 20 years after graduating from high school. He quickly became a leader in the Electroneurodiagnostic Technology degree program by sharing his love of the subject with his fellow students. He was named Wake Tech's Outstanding Student of the Year during the college's annual Excellence Awards ceremony and is graduating with a 4.0 GPA. Willson encouraged graduates not to forget the journey they started at Wake Tech.

"Whether you are stepping into employment, additional education or something altogether different, remember what you do makes a difference. I think we can all agree that we are better for the experience we had a Wake Tech."

Rachel Magee enrolled at Wake Tech after facing financial challenges with other education and work choices. Her interest in COVID-19 vaccines led her to choose the new Biotechnology program, and now she is one of two students receiving a Biotechnology Associate in Applied Science (AAS) degree. She maintained a 4.0 GPA, became a member of Wake Tech's Honors Program and participated in the unique STEM Academic Research and Training program, which offers Wake Tech students undergraduate research opportunities. Magee urged graduates to continue striving for success.

"I intend to use everything I learned here at Wake Tech to succeed in my academic and professional endeavors. I hope you do, too."

Rylie Sultzbach enrolled at Wake Tech after high school because she wanted to find her career passion. Sultzbach took an Art History course during her first semester at Wake Tech and loved it. She decided to pursue an Associate in Arts (AA) degree. Sultzbach took advantage of an internship at the North Carolina Museum of Art as a college gallery guide. She also participated in the Carolina Student Transfer Excellence Program and has been accepted into UNC-Chapel Hill, where she plans to pursue advanced degrees in Art History and Museum Studies. Sultzbach told graduates to be fearless.

"Whatever your story is, knowing what you have accomplished at Wake Tech, despite the challenges you may have faced, should give you the courage to continue in your next chapter."
Wake Tech President Dr. Scott Ralls congratulated the class of 2023.
"We are so proud of each and every one of you," said Dr. Ralls. "You have the stuff to achieve your dreams! It's time for everyone to cross the finish line and let joy begin."
The graduating class included 12 Career and College Promise (CCP) students from high schools across Wake County – the most ever! These CCP students finished an associate degree – tuition-free – while attending traditional high school.
Another 82 graduates from Wake Tech's Cooperative Innovative High Schools – Wake Early College of Health and Sciences, Vernon Malone College and Career Academy and North Wake College and Career Academy – earned a variety of degrees, including AA, Associate in Science, Welding Technology AAS, Culinary Arts AAS and IT Service and Support AAS.
Forty-nine student veterans graduated, and two students who enrolled as part of Wake Tech's Fostering Bright Futures program beat the odds and earned degrees. Fostering Bright Futures helps former foster youth achieve their goals. Alejandra Basham and Lisa Drevenak both received an AA degree. Drevenak says the program helped her overcome adversity and find love, support and direction. "I wouldn't have made it without Fostering Bright Futures," she said. "The future is bright for me."
A day before the commencement exercises, special pinning ceremonies were held for Health Sciences programs at the Perry Health Sciences Campus in Raleigh. Sixty-three students graduated from The Martha Mann School of Nursing, the largest Associate Degree Nursing program in the state.
Registration for Fall classes at Wake Tech is now in full swing. New students can apply at apply.waketech.edu and take advantage of the college's "Free Book Fall" promotion. All students who complete a Free Application for Federal Student Aid, regardless of whether they qualify for financial aid, will receive the books they need for their fall classes free of charge.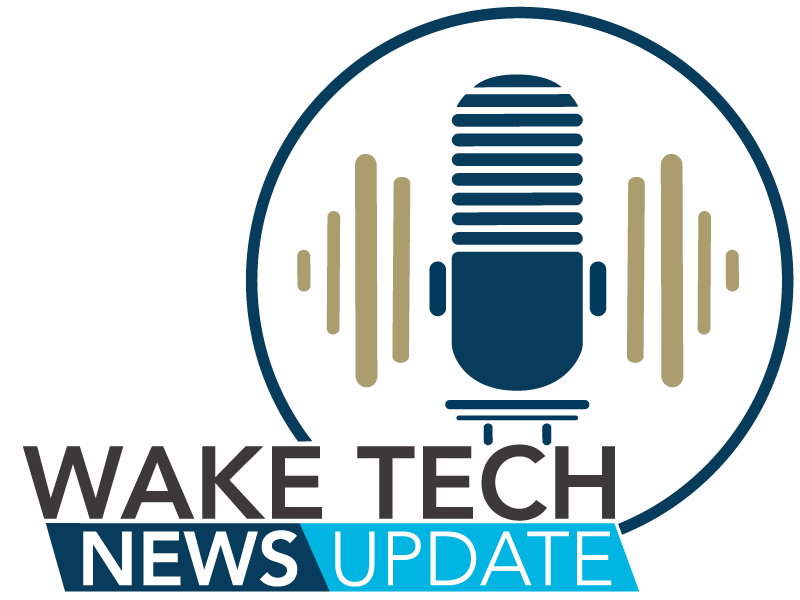 Latest News from Wake Tech