Campus Happenings
Wake Tech Students from Ukraine Collect Aid for Homeland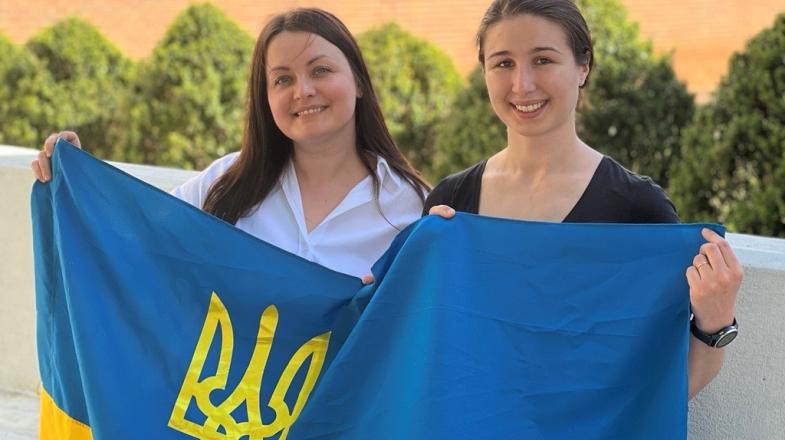 RALEIGH, N.C. (May 6, 2022) - Two Wake Tech students from Ukraine are standing with their native country by collecting humanitarian aid right here on campus for families in their homeland.
Anastasiya Lukecha and Anna Lehaieva are pursuing Associate in Applied Science degrees in Architectural Technology and are also members of the American Institute of Architecture Students (AIAS) chapter at Wake Tech. AIAS is a student-run organization dedicated to providing progressive programs, information and resources on issues critical to architecture and the experience of education.
Since mid-March, with the support of fellow students, faculty, staff and the community at large, they've collected five boxes of food and clothing and delivered the items to groups in North Carolina and New Jersey that are transporting the aid to the country in crisis. Their biggest need and priority now is donations of medical supplies.
Anastasiya moved to the United States in 2006, and Anna has lived here since 2009. Both have family members still living in various regions of Ukraine. Once the war started, they wanted to do something to help refugees back home.
After speaking with Phillip Jefferson, associate professor and program director of Architecture Technology, the students decided to make their efforts a community service project for the AIAS chapter.
Anastasiya and Anna shared their needs with classmates and set up weekly collection boxes on campus. Fellow students jumped right in and have not only donated, but they also have designed and posted fliers and helped spread the word about the collection drive.
"We've had a lot of support from Wake Tech students, and a lot of AIAS members donated," Anna said. "If we can help just one person, we've fulfilled our purpose."
"Some people are donating what they have, and others are donating brand new items. Many of them saw the flier and went out to the store and bought what they could," Anastasiya said. "It's just incredible."
Jefferson said the collection efforts are a real-life example of service learning.
"In the field of architecture, we are designing spaces and places that improve people's lives, and sometimes that work is not always physical buildings. It's the intention behind the work that we do.
"It's so great to see these students rally around and support their fellow students who have been impacted by the war in Ukraine. Many of our students have not been impacted by things outside of North Carolina, and so this is really special to see their connection with this effort."
The collection box is located outside of Room 219 in Building E on the college's Southern Wake Campus.
The Spring semester is wrapping up, but the students plan to continue to collect items over the summer. "As long as there's a need, we'll keep doing this," Anna said.
Humanitarian aid items:
Nonperishable foods: freeze-dried food, dry soups, energy bars, instant coffee, tea bags
Medicines: first-aid kits, painkillers, anti-inflammatory, wound care supplies and dressings
Evacuation needs: bone splints, braces, accessories for medical backpacks, medical packs, paramedic bags, emergency thermal blankets, AA/AAA batteries, flashlights, power banks, water filtration systems, pillows, air mattresses, mats, sleeping bags, tents, thermoses
For civilians: warm outerwear, footwear, shoe insoles, underwear, thermal underwear, warm socks, toiletries, sanitary protection, diapers for adults, boys and girls clothing (8-14 years), baby formula powder, infant and children's Tylenol, Advil, Motrin
For pets: small animal bedding and litter, antiparasitic drugs, dog crates, cat carriers