A Quick Fix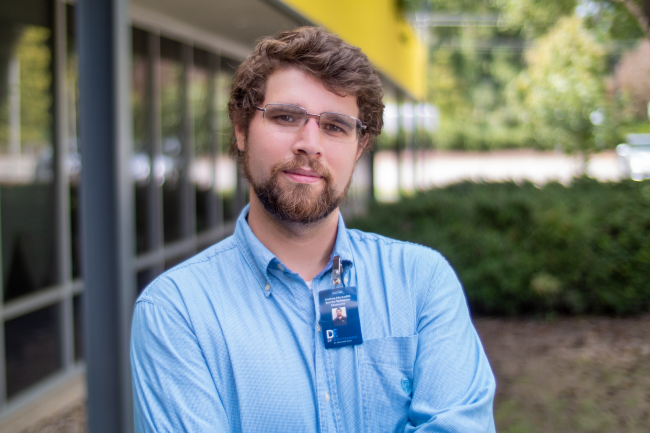 Andrew Moreadith
Class of 2018
Wake Tech is the reason I got this job and my life has changed because of it!
— Andrew Moreadith
Andrew Moreadith was working a dead end job at a grocery store when it hit him: he needed to do more with his life to be fulfilled. And he wanted to do it quickly. Andrew came to Wake Tech and in 16 weeks, he had a new career as a Certified Apartment Maintenance Technician, and a new lease on life!
"I went from earning an hourly wage to a living wage, and I couldn't be happier," he says.
Certified Apartment Maintenance Technician is one of 20 high-demand programs included in Wake Tech's WakeWorks Propel. Thanks to funding from the Governor Emergency Education Relief program, anyone who is unemployed or underemployed may qualify for a scholarship to pay for fees, books, and supplies.
Andrew says the Certified Apartment Maintenance Technician program was hands-on and entertaining: "I learned a lot of new skills, like how to repair HVAC systems, how to install electrical wiring and general maintenance skills."
Toward the end of the course, a representative from the commercial real estate firm Drucker and Falk came to speak to the class about life in the real world, and Andrew knew he needed to take a shot. "I followed up with him for several weeks and sent my resume to several people in the company until a position became available. I finally got an invitation to interview and I was hired!"
Now, instead of a boring, dead end job, Andrew says he's working in a field where no day is routine.
"There is no average day as an apartment maintenance technician!" he says. "One day I'm replacing water heaters, the next day I'm installing sinks and toilets, and the next day I'm working to repair an air conditioning system." As a bonus, he lives on property, cutting down on gas and commute time.
Andrew has already received a promotion, is pursuing additional industry credentials, and is living a life fulfilled.
"Wake Tech is the reason I got this job and my life has changed because of it!" says Andrew. "This course was the catalyst I needed to make myself the person I wanted to be. I urge anyone thinking of taking this leap to do it."