2018-19 SGA President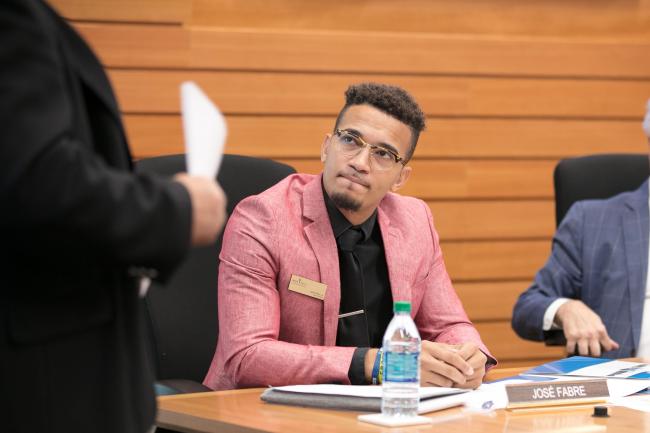 Jose Fabre Jr
Class of 2019
"Wake Tech is a place for incredible, hands-on education."
— Jose Fabre Jr
In 2015, Jose Fabre Jr., the youngest of six children, graduated from high school in New Jersey with less than a 1.0 GPA.  "School just wasn't my thing and I was certainly not motivated academically," he says. The day after he graduated, Jose's family moved to North Carolina to start an auto sales business. Jose worked there for two years before deciding he wanted more and was ready to take school seriously. 
"I was exhausted from a long day at work, and that night, I turned on my computer and registered for 17 hours at Wake Tech. I was ready!  That semester, I took six courses and earned (4) A's, (1) B, and (1) C. I retook that C."
Two courses that helped him are ACA 122 (College Transfer Success) and Communications 231 with Mrs. McCoy.  Both of these courses assisted him in mapping his academic path and in practicing leadership, interviewing, and writing skills. He says he'd recommend them to all new students planning to transfer to a university.
Today, Jose is maintaining a 3.89 GPA, while serving as SGA President and participating as a worship leader at his church.  He still helps his parents at their auto sales business, but they prefer he remains focused on his studies and his involvement at Wake Tech. As SGA President, he stays focused on enhancing campus events and encouraging students to get involved in clubs related to their studies. When he's not in class or at an SGA meeting, you may find him enjoying a smoothie at Aversboro Coffee in Building D, one of his favorite spots on the Northern Wake Campus.
In Spring 2019, Jose will graduate with an Associate in Engineering degree and an Associate in Science – becoming the first in his family to earn a college degree! He plans to pursue a bachelor's degree in Architectural Engineering at NC State, moving him closer to the career he desires. 
"My dream job is to build churches and residential homes for low-income families in my community.  I want to serve families who are trying hard to make it but don't have excellent credit."
Jose is not exactly certain how his dream job will become a reality, but he has proven to himself that he can accomplish anything when he is motivated.