Family Recipe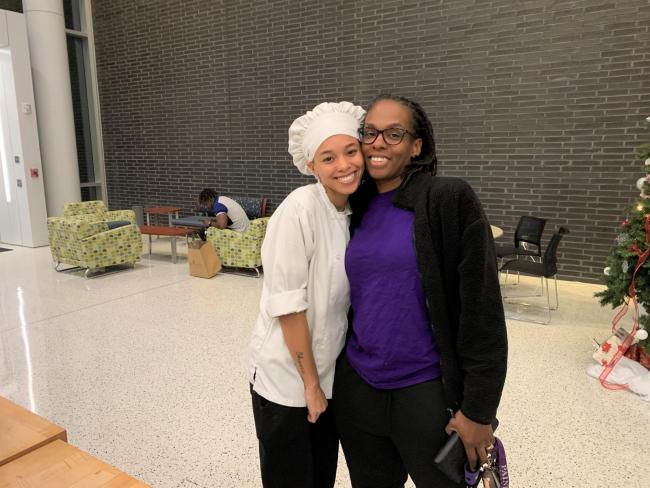 Mekiyah Dove-Harris
Class of 2022
Area of Study
Baking and Pastry Arts
Favorite Aspect of Wake Tech
All the knowledge and skills she received from instructors
"I really do love baking!"
— Mekiyah Dove-Harris
Cakes and pastries and chocolates, oh my! Mekiyah Dove-Harris is embarking on a sweet career she loves – and the one she believes she was destined to have. Dove-Harris was an "artsy" child growing up. She learned to cook with her mother and fell in love with baking.
"It runs in the family," she says. "I was always in the kitchen with her."
Dove-Harris says her talents were handed down from her mother, Destiny Dove, who learned her craft in Wake Tech's Culinary Arts program, where she says the faculty's industry connections gave her great on-the-job experience. Dove graduated in 2004 and then spent several summers on the road, catering for Mary J. Blige, the Four Tops and other musicians. She's currently the food service manager at Shaw University and has fond memories of her time at Wake Tech.
"I loved it! It was a close-knit group. We had small classes, and all the teachers knew who you were," Dove says.
Given her daughter's interests and talent, Dove was not really surprised when she chose to follow in her footsteps and attend Wake Tech after high school. Dove-Harris says she considered several majors but kept returning to Baking and Pastry Arts.
"I really do love baking," she says. "You can do so many different things with it – decorate cookies, make cakes, sugar work, chocolate work. There are just so many different avenues, and you can really think outside the box."
Eighteen years after her mother graduated, Dove-Harris became a proud Wake Tech graduate in December and was immediately hired at a local Raleigh bakery, Burnie's Sweets and More. Like her mom, she says Wake Tech's program gave her valuable knowledge and skills.
"I knew a lot about the basics of baking," she says, "but there was so much I didn't know. It was a deeper dive into baking from scratch, and it definitely opened my eyes."
In addition to her bakery job, Dove-Harris has her own business making cakes and cupcakes for family and friends. Look for her work on Instagram at @kiyahs.kakery!