Soaring on the Court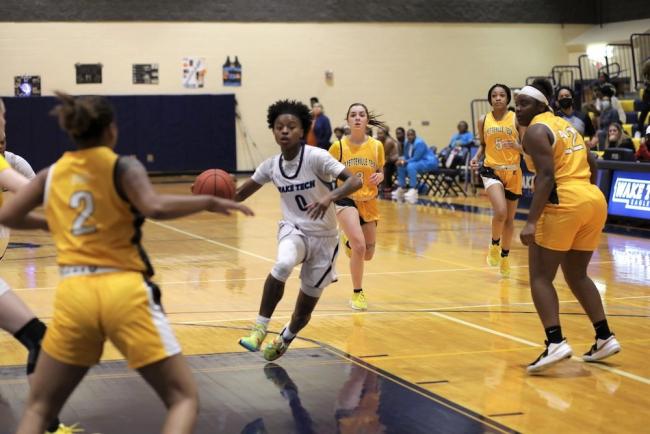 Anna Vann
Class of 2022
Area of Study
Associate in Arts
Favorite Aspect of Wake Tech
My coaches
Career Goals
Physical therapy
"Being a leader means being a leader on and off the court, setting a good example, going to class, getting your homework done."
— Anna Vann
Anna Vann came to Wake Tech three years ago with two goals – to become a better student and a better basketball player.
At the time, she didn't realize the history she was about to make.
As the standout point guard for the Wake Tech Women's Basketball Team, Vann is the first basketball player at Wake Tech to score 1,000 points during a career. She is also the 2022 National Junior College Athletic Association (NJCAA) Region 10 DII Player of the Year.
To top it all off, Vann and her fellow Eagles will play on the national stage this week in Port Huron, Mich., in the 2022 NJCAA DII Tournament, a first for the Eagles women's basketball program.
"With a 25-2 record, we've put Wake Tech on the map for women's basketball, and we still have a lot to accomplish," Vann said. "Being the first to score 1,000 points and being named Player of the Year are big honors for me, but without my coaches and my team, I wouldn't have achieved them."
The 5'7" guard currently leads NJCAA Region 10 in points per game, at 20.9, and is second in assists, at 6.8. She is second in the nation with 5.2 steals per game. Vann averaged 21.8 points, 7.3 rebounds and 6.9 assists per game in conference games this season.
Coach Alison Beasley started recruiting Vann when she was a sophomore playing at Roanoke Rapids High School.
"Her quickness and the way she gets up and down the floor with such speed are her strengths," Beasley said. "She's a juggernaut on offense and is always locked in on defense. She has such a strong willingness to win and a tenacity to become a better person off the court, not just become a better basketball player."
In 2019-20, Wake Tech won the Region 10 conference championship, earning a spot to compete in the national tournament. But the pandemic canceled the tournament and also prevented the college from playing during the 2020-21 season.
Vann said those challenges motivated her to step up as a leader and encourage her teammates to work hard to get back to Michigan.
"I try to push everybody to get better and make sure everyone on the team is playing their role and doing their job," Vann said. "Being a leader means being a leader on and off the court, setting a good example, going to class, getting your homework done."
Vann said she's matured a lot at Wake Tech, thanks to the support and motivation of her coaches.
"You can accomplish anything you set your mind to, but you have to put in the work," she said. "Your attitude is key to being a successful basketball player. The player that I am now is at a higher standard than the player I was in high school. I had to work on my attitude, and I've learned so much and definitely grown from it."
Vann will graduate in May with her associate in arts degree. She's keeping her options open, hopes to continue playing basketball for a four-year college or university and is eyeing a career in physical therapy.
She said she's super-grateful for her Wake Tech experience.
"Wake Tech means a lot to me, and I just want to thank everyone who has supported me," Vann said. "My coaches, the staff, instructors, everyone here is amazing. It's a family here, and there are so many people here who help and guide you. I'm going to miss it so much. Wherever I go, I'm looking forward to going there and challenging myself, working hard and making more history."