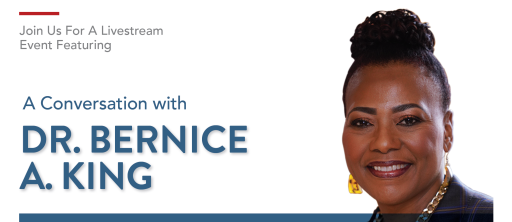 NSLS Live Speaker Broadcast - Dr. Bernice A. King
Date
Wed., February 24th, 2021
Description
Dr. Bernice King is participating in a broadcast event sponsored by the Wake Tech chapter of The National Society of Leadership and Success. The event will be on February, 23, 2021 online, and it is free to all students, staff and faculty. All viewers are invited to submit questions via Twitter and Facebook, which will be answered live during the broadcast. Be sure to tag @WakeTechOVAL & @theNSLS on Twitter during the event and let us know you are enjoying the broadcast. For more information about Dr. Bernice King, visit: www.thekingcenter.org.
Dr. King is the CEO of the King Center which was founded by her mother, Coretta Scott King.  From this position, the same one held by her mother, Dr. King continues to advance her parents' legacy of Kingian Nonviolence, which she re-branded Nonviolence365™?
This is the second installment of the 2021 multi-speaker broadcast series sponsored by the NSLS. The NSLS's Speaker Broadcast series, which reaches more than 720 college campuses each month during the academic year, is designed to support The National Society of Leadership and Success's overall mission of Building Leaders Who Make a Better World.
To tune in to this live streamed event, visit https://members.nsls.org/members/broadcast-live up to 10 minutes before the presentation.