Virtual Open House
The road to big dreams runs right through Wake Tech! Whether you're looking to get your foot in the door at a job you've been dreaming about, or you want a college that fits your lifestyle, #SuccessStartsHere! 
We are currently planning live, virtual events about academic degree programs, non-degree workforce training, and student life for the week of Oct. 18, 2021. 
More details coming soon!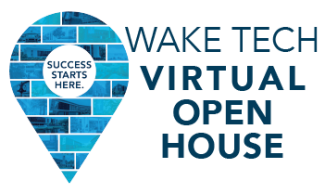 Pre-recorded Virtual Open House Presentations include:
Admissions and Student Resources
Academic Success & Transition Resources
Admissions Q&A
Career Development for Prospective Students
College & Career Promise
Financial Aid Basics
Military Programs and Resources
Student Activities, Clubs, and Athletics
The Student Experience - a panel discussion
Wake Tech GPS Guiding Prospective Students
Academic Degree Programs
Applied Engineering and Technologies
Business and Public Services Technologies
Communication and
Culinary Arts and Hospitality Management
Dental Assisting
Electroneurodiagnostic Technology
Health Science programs
Information Technology Programs
Pharmacy Technology
Social Sciences Q&A
STEM Undergraduate Research at Wake Tech
Transportation Technologies Programs
University Transfer Options
Non-Degree Workforce Continuing Education
911 Telelcommunicator Training
Artisan Bread, Baking & Hospitality
Barber & Beauty Shop Talk
Basic Law Enforcement Training Academy
BioWork: Prepare for a Career in Biomanufacturing
Career Connection Resources
Educacion Continua para La Fuerza de Trabajo
Future Ready: Providing Opportunities for Students with IDD and the Adult High School Diploma Program
How to Make Your Resume Stand Out
Kick Start a Path to Your IT Career
Nurse Aide and Allied Health Certificate Programs
Online Training for a Successful Healthcare Career
The Road to Vocational Training Certifications
Using Digital Marketing to Succeed
WakeWorks® Apprenticeship
WakeWorks® Propel
Workforce Continuing Education: Yes, we have a class for that!