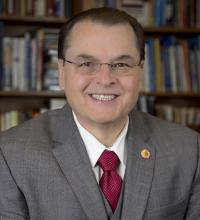 About Dr. Stephen Scott
On Oct. 15, 2003, Wake Technical Community College welcomed the third president in the college's 50-year history: Dr. Stephen Scott. His personal focus at Wake Tech is on value-added education and on leadership development for faculty, staff, and students.
With a career spanning more than 40 years, Dr. Scott has served as president of Lenoir Community College (2002–2003, Kinston, N.C.) and Southeastern Community College (1988–1999, Whiteville, N.C.). He has also served as executive vice president and chief operating officer of the North Carolina Community College System (1999–2002).
Dr. Scott began his career in South Carolina, teaching high school mathematics and physics. He served in several administrative positions for community colleges in South Carolina before moving to North Carolina in 1988.
In 2008, Dr. Scott was named President of the Year by the NC Board of Community Colleges. Other honors include the 2009 I.E. Ready award from the NC State University Department of Adult and Higher Education, the 2009 Business Leader of the Year Award from Business Leader magazine, and the 2013 Pacesetter of the Year Award from the National Council on Marketing and Public Relations, District 2.
Under Dr. Scott's leadership, Wake Tech became the largest of North Carolina's 58 community colleges. In 2007, the college opened its Northern Wake Campus as the first campus in the nation to be completely LEED® certified by the U.S. Green Building Council, and three years later purchased land in Morrisville for its future RTP Campus. In 2012, voters passed a $200 million bond referendum to enable Wake Tech to build new classrooms to meet the growing demand for higher education and training in Wake County. In 2013, Wake Tech was named the fastest-growing large community college in the U.S. by Community College Week.
Dr. Scott's focus at Wake Tech is on continuous improvement through a process he developed called "Applied Benchmarking." All employees are required to seek ideas for improvements by benchmarking other institutions and applying what they have learned at Wake Tech. 
A native of Liberty, S.C., Dr. Scott worked in his family's restaurant as a young man. He played football for the University of Tennessee and earned his bachelor's degree (economics), master's degree (administration) and doctoral degree (education) at Clemson University.
Dr. Scott and his wife, Patsy, have two children and three grandchildren.