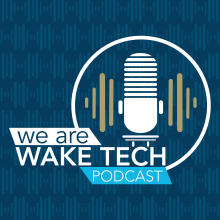 Episode 2 Trailer: WakeWorks Apprenticeship and WakeWorks Propel
What is WakeWorks and how will this exciting new partnership put you on the fast track to success?
Dr. Pam Howze, Executive Director of Apprenticeship, Customized Training, & Work Based Learning and Anthony Caison, Vice President of Workforce Continuing Education.
They'll explain more about WakeWorks, a unique partnership between Wake Tech and Wake County.  You'll discover how WakeWorks Apprenticeships and short term training through our WakeWorks®Propel program can put you in a rewarding career and on the fast track to success. 
Published on:
Mar. 07, 2021