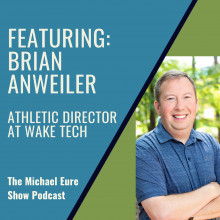 Wake Tech Athletics
Featuring Brian Anweiler
Join us as Michael and Jerry Greene (Cybersecurity Student at Wake Tech) have an interesting end of the semester conversation with Brian Anweiler, Athletic Director at Wake Technical Community College. Brian will share opportunities for students, faculty, staff, and the community to support and possibly actively participate with various sports programs hosted through the Athletic Department. Please prepare to learn about E-Sports, Men's and Women's Basketball, Volleyball, Women's Soccer, and other teams sponsored by the department.
Published on:
Dec. 21, 2021
Episode Guest
Brian Anweiler
Brian Anweiler was named Wake Technical Community College's second Athletic Director in September 2019. Prior to Wake Tech, Anweiler was at Northern Virginia Community College, in the greater Washington, DC area, as the College-wide Student Life Director. He was at NOVA from January 2009 to August 2019 after spending 17 years at Tallahassee Community College (TCC). In addition to his experience directing two-year college athletic programs, Anweiler served for over nine years in the TCC Communications Office. He worked closely with the media, covered countless college events and served as the interim communications director. He also served as an adjunct professor at George Mason University in the School or Recreation, Health, and Tourism teaching several courses including Economics & Finance in the Sport Industry, Sport Governance, and Managing Intercollegiate Athletics from 2012-19. Anweiler is a 1994 graduate of TCC. He earned his bachelor's degree in media communication from Florida State University in 1997 and earned his master's degree in Physical Education (Sport Administration) in 2000 from FSU.
Episode Notes
This episode was streamed December 15, 2021.