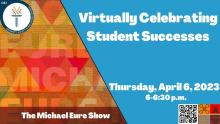 Virtually Celebrating Student Successes
Join us for a virtual discussion focusing on student successes. Student hosts Taj Hewitt, Jenny Aguilera, Damien Johnson II and Marjorie Chanakira lead the conversation with other students who have agreed to share insights. Special thanks to Wake Tech Diversity, Equity and Inclusion Council for partnering with us for this episode.
Published on:
May. 31, 2023
Episode Notes
This episode was streamed on April 6, 2023.