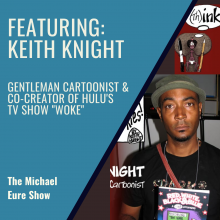 Special Guest - Keith Knight
Join us for a conversation with Keith Knight, cartoonist and co-creator of Hulu's 'Woke' during the Michael Eure Show. Michael and guest hosts will talk with Keith about his current projects and how he became a cartoonist. Several of Mr. Knight's works will also be shown during the broadcast.
Published on:
May. 11, 2021
Episode Guest
Keith Knight
Keith Knight is creator of several comic strips, Knight is best known for semi-autobiographical K Chronicles, and his sociopolitical single panel, (th)ink. Keith Knight is part of a generation of African-American artists who were raised on hip-hop, and infuse their work with urgency, edge, humor, satire, politics and race. His art has appeared in various publications, including the New Yorker, the Washington Post, Daily KOS, San Francisco Chronicle, Medium.com, Ebony, ESPN the Magazine, L.A. Weekly, MAD Magazine, and the Funny Times. The Hulu streaming series Woke, is inspired by Knight's comix and life in San Francisco. He is co-creator, co-writer, and an executive producer on the series.
Episode Notes
This episode was streamed on May 6, 2021.