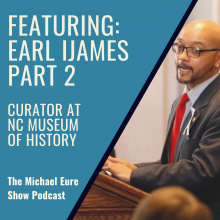 Special Guest - Earl Ijames - Part 2
Join Michael and Co-hosts (Wake Tech Students) as they talk with Earl Ijames, Curator at the NC Museum of History. This episode will feature information about the 2021 Capitol City Juneteenth scheduled for the State Capitol and Dix Park in Raleigh, as well as, the JunetENTH at Harlem Brew South in Rocky Mount. Black Music Month will be briefly discussed.
Published on:
Jun. 15, 2021
Episode Guest
Earl Ijames
Earl Ijames is curator at the NC Museum of History and has many years' experience working in the NC Office of Archives and History.
Episode Notes
This episode was streamed June 10, 2021.