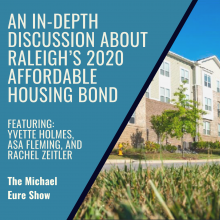 Raleigh's 2020 Affordable Housing Bond
Featuring Yvette Holmes, Asa Fleming & Rachel Zeitler
Please join members of the Citizens Supporting Raleigh Affordable Housing Bond Advisory Committee for an in-depth conversation about Raleigh's $80 million affordable housing bond. The conversation is led by Yvette Holmes, vice president of resources and partnerships at DHIC; Asa Fleming, former president of North Carolina Realtors® and an Allen Tate realtor; and Habitat for Humanity Wake County Director of Advocacy Rachel Zeitler. The group discusses the citizen-led effort to address the critical needs for affordable housing across the city.
Published on:
Dec. 22, 2020
Episode Guests
Yvette Holmes
Yvette joined the DHIC team in 2012 and has more than has 30 years of experience as a nonprofit administrator, fundraiser and public and civic engagement specialist. Yvette served as co-project leader for the Washington Terrace redevelopment project and was responsible for leading the resident and public engagement process. She is responsible for DHIC's community relations and public-facing programs, as well as cultivating new and existing partnerships to advance the mission of the organization.
Asa Fleming
Asa has worked in real estate since 1998 in both New York and North Carolina and is experienced in assisting clients in varying situations, including everything from first-time home buyers to move-up buyers, as well as investors. Asa is an active member of the Raleigh Regional Association of Realtors® (RRAR), North Carolina Realtors® and the National Association of Realtors®, where he has served on multiple committees. Asa is a RRAR past-president and was named the 2016 RRAR Realtor® of the Year. He is currently the president of N.C. Realtors®. He is also active in a variety of local organizations, including The Caring Place, Southeast Raleigh Promise and Rebuilding Together of the Triangle.
Rachel Zeitler
Rachel is the director of advocacy at Habitat for Humanity Wake County. Habitat Wake has partnered with more than 1,000 families since 1985 to build homes, yet one in four families in Wake and Johnston counties are cost-burdened and need affordable homes. A cost-burdened family is one that spends more than 30 percent of their income toward housing, meaning they may have difficulty affording other necessities, such as food, transportation, education and health care.
Episode Notes
This episode was streamed October 1, 2020.