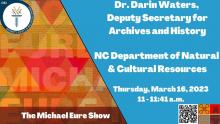 Conversation with Dr. Darin Waters, NC Deputy Secretary for Archives and History
Join us for a virtual discussion with Dr. Darin Waters of the North Carolina Department of Natural and Cultural Resources. Student hosts Taj Hewitt, Jenny Aguilera, Valentin Hernandez Martinez and Damien Johnson II lead the conversation. Special thanks to the Wake Tech Diversity, Equity and Inclusion Council for partnering with us this semester.
Published on:
May. 31, 2023
Episode Guest
Dr. Darin Waters
Dr. Waters is deputy secretary of the Office of Archives and History in the North Carolina Department of Natural and Cultural Resources. He oversees the operations of the divisions of State History and Maritime Museums, State Historic Sites and Properties, Archives and Records, Historical Resources and Commissions (including the State Historic Preservation Office, the Office of State Archaeology and Tryon Palace), and Education and Outreach. He is also the secretary of the North Carolina Historical Commission and state historic preservation officer. Originally from Asheville, Waters previously served an associate professor of history at UNC-Asheville and the executive director of UNC-Asheville's Office of Community Engagement. He also held other teaching, research and community engagement positions at UNC-Asheville, UNC-Chapel Hill and North Carolina State University, as well as numerous nonprofit boards, including the North Carolina African American Heritage Commission.
Episode Notes
This episode was streamed on March 16, 2023.