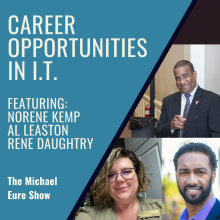 Career Opportunities in I.T.
Featuring Norene Kemp, Al Leaston, & Rene Daughtry
Michael and Jerry Greene (Cybersecurity student at Wake Tech) will have an interactive discussion with Rene Daughtry, Solution Validations Services PMO Team Lead at Cisco Systems; Norene Kemp, Department Head, Computer Programming and Information Technologies; and Al Leaston, Program Director, Network & Computer Technologies at Wake Technical Community College.
Published on:
Nov. 03, 2021
Episode Notes
This episode was streamed on October 27, 2021.