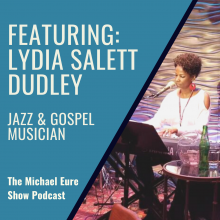 Black Music Month - Lydia Salett Dudley
The Michael Eure Show is celebrating Black Music Month every Thursday in June. The first episode features Lydia Salett Dudley, a noted musician in the Triangle area who specializes in gospel, jazz and Christian music. In addition to previously appearing on the show, Lydia performed with her band during the Wake Tech Student Activities Night at the Museum in February.
Published on:
Oct. 20, 2020
Episode Guest
Lydia Salett Dudley
Lydia Salett Dudley is a jazz pianist and singer living in the Raleigh Durham area. Her nonprofit organization The Salett Art Center, Inc. is geared to served at risk youth by provide music education that empowers each individual to express their own voice. She currently sits on board of The Heart of Carolina Jazz organization. Her band Jazz Xpressions consist of music educators and performers and can be seen performing at various festivals, public and private venues.
Episode Notes
This episode was streamed June 6, 2020.